9 Best Sump Pumps On The Market In 2023
Are you looking for a reliable sump pump to protect your home from water damage? Look no further! A quality sump pump is one of the essential investments in your home. Whether looking for a primary or secondary pump, the best sump pump keeps your basement dry and safe.
With many pumps, it can be challenging to determine which is suitable for your home. But don't worry; I've done the research and can help you find the sump pump for your needs.
Thus I have compiled a list of rivals to determine the best sump pump. These rankings will help you make the right decision.
Comparison Of Best Sump Pumps On The Market:
| | | | |
| --- | --- | --- | --- |
| MODEL | FEATURES | COST | RATING |
| Superior Pump Thermoplastic Submersible Utility Pump | Thermoplastic material, AC power source, 30 gallons per minute (maximum flow rate) | CHECK PRICE | 4.6 / 5 |
| Basement Watchdog Battery Backup Sump Pump System | Sensor monitors battery fluid levels, User-friendly control panel, Compact pump | CHECK PRICE | 4.6 / 5 |
| Superior Pump Stainless Steel Pedestal Sump Pump | Fully adjustable automatic switch, Corded electric power source, CSA Certified | CHECK PRICE | 4.6 / 5 |
| Basement Watchdog Sump Pump System | Cast iron material, Battery powered source, Pre-assembled system | CHECK PRICE | 4.5 / 5 |
| Ridgid Stainless Steel Dual Suction Sump Pump | Corrosion resistant coated steel, Stainless steel fasteners for long life, Float guard protects float and switch for dependable operation | CHECK PRICE | 4.1 / 5 |
| Superior Pump Cast-Iron Submersible Sump Pump | 46 cubic feet per minute (Maximum flow rate), Rugged cast iron construction, Vertical float switch | CHECK PRICE | 4.6 / 5 |
| Wayne Basement Digitally-Connected Sump Pump | Stainless steel material, Corded electric power source, Pump up to 5,490 GPH | CHECK PRICE | 4.7 / 5 |
| Zoeller Submersible Sump Pump | Engineered thermoplastic base & cast iron switch material, Battery powered source, Easy installation | CHECK PRICE | 4.7 / 5 |
| Wayne Thermoplastic Submersible Multi-Use Pump | Comes with iSwitch technology, Automatic pumping, Efficient design | CHECK PRICE | 4.5 / 5 |
9 Best Sump Pump On The Market
Superior Pump Thermoplastic Submersible Utility Pump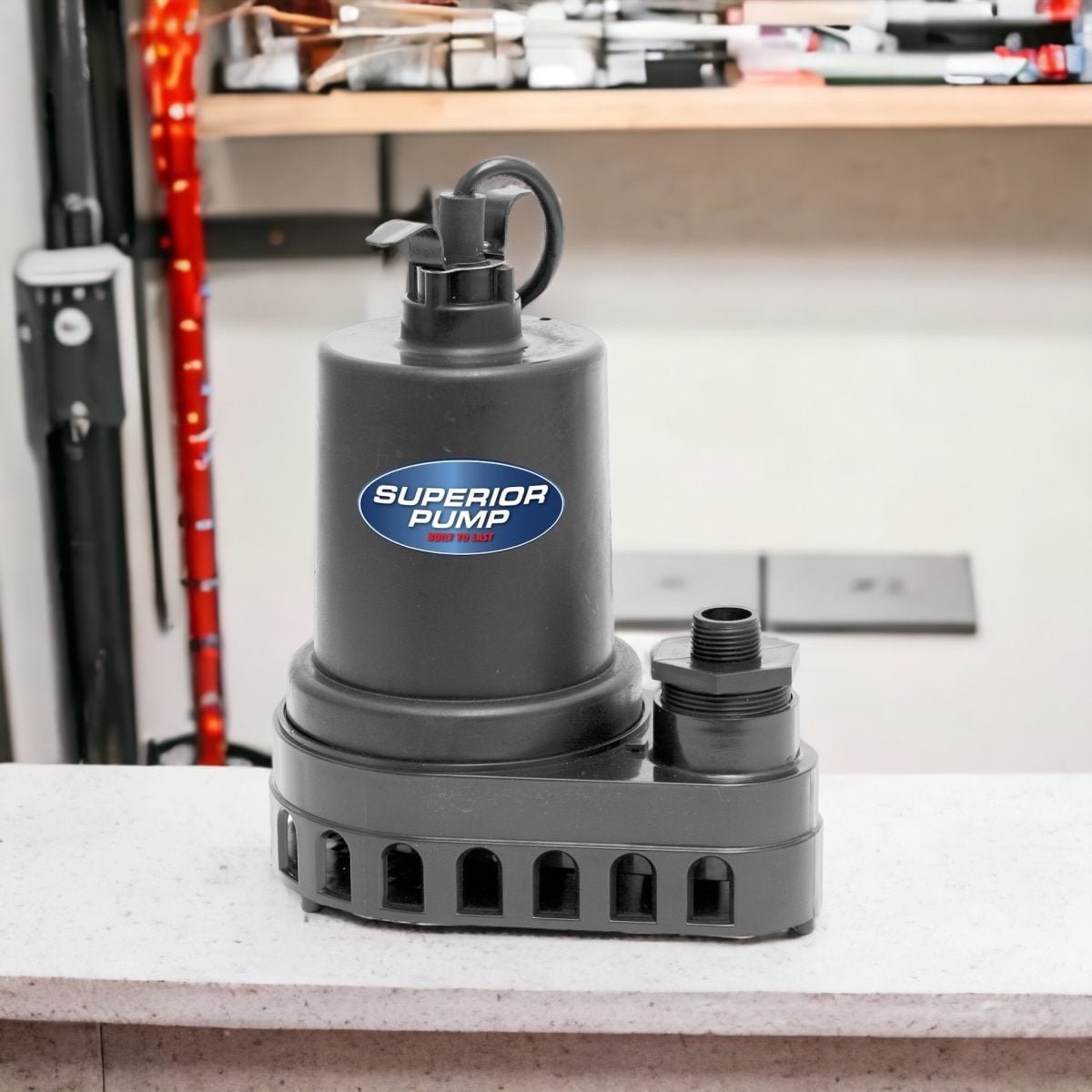 SPECIFICATIONS
Thermoplastic material
AC power source
30 gallons per minute (maximum flow rate)
Removable suction screen
Positive
Perfect little pump
No plumbing installation is required
Easy to set up
Super handy
Efficient pump
Durable
Affordable
Portable
Suppose you experience flooding infrequently and don't wish to set up a complete system. In that case, the cost-effective Superior 91250 sump pump is perfect for limited areas that don't require a lot of pumping power but can still benefit from a sump pump setup.
This cost-efficient option is suitable for tiny areas and for those owners who only experience basement water issues every once in a while. But, it is not ideal for huge basements.
The Superior 01250 can pump 1,800 gallons of water each hour and extract liquid from the bottom up to an ⅛ inch depth. Furthermore, it is capable of removing small debris that is ⅛ inch or less in size, which can be filtered through the detachable debris filter.
The item made from thermoplastic is equipped with a handle and should be near a usual electrical outlet at a safe distance from any water. This item hooks to a common garden hose to release the liquid.
Reviews from customers:
Dave, a resident of the United States, is pleased with the purchase of Superior Pump. He said, " It's surprisingly quiet and easy to set up. A standard garden hose fits just fine, and it easily pumps out a full propane well in about 20 minutes thru a 25 ft hose. It sits flat on the bottom and drains to about 1/4" level. I've used it a dozen times, and it is going strong."
Sharon S. said, "I am pleased with the operation of this product. The only thing I would have liked to have on it is to automatically cut it off once it pumps out all the water. Performs well; I use it in my in-ground swimming pool water well."
Basement Watchdog Battery Backup Sump Pump System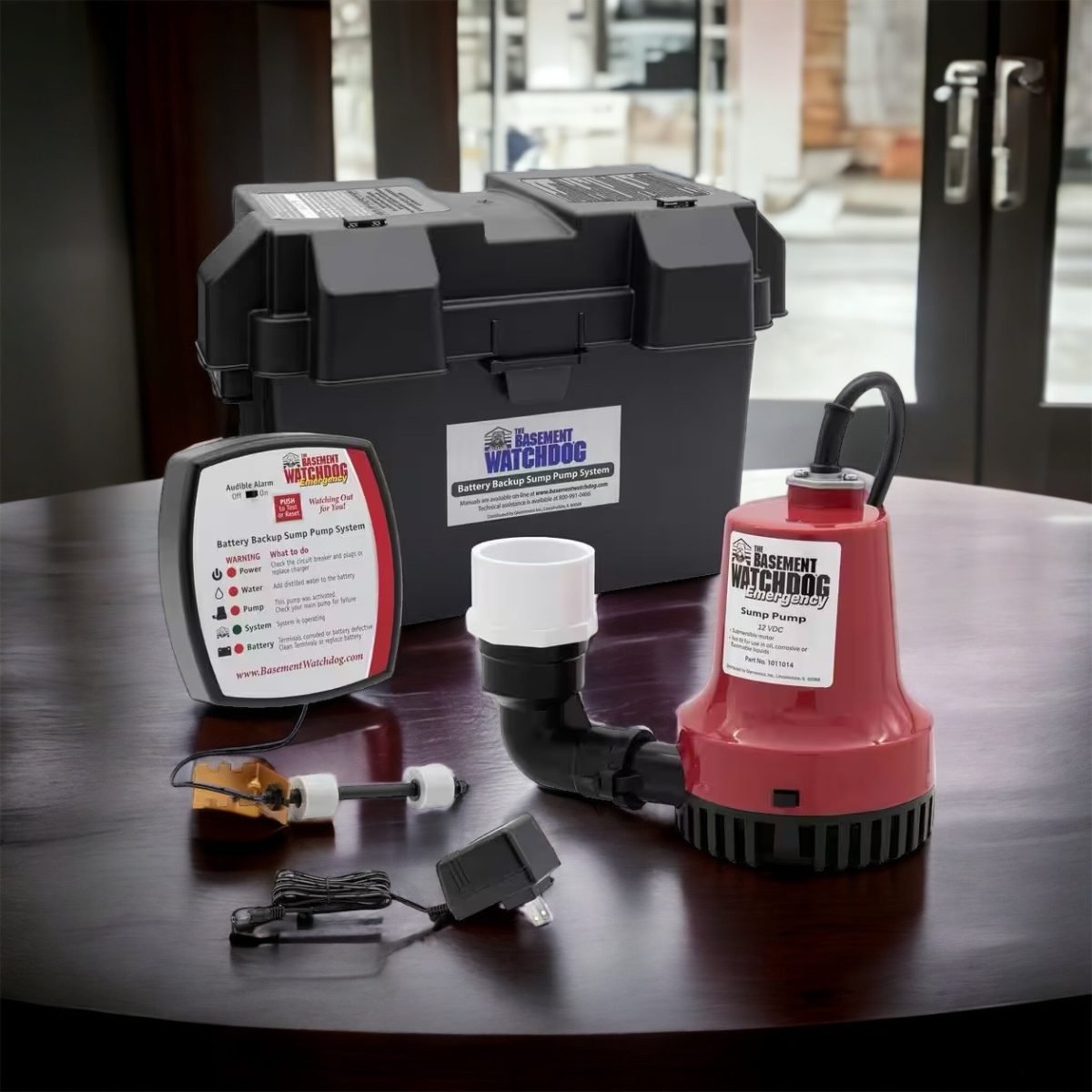 SPECIFICATIONS
Pumps 2,500 GPH at 0 ft. of lift & 1,730 GPH at 10 ft. of lift
It comes with a controller, charger, dual float switch, pump, and battery box
Sensor monitors battery fluid levels
User-friendly control panel
Compact pump
Positive
Best backup sump pump
No more flooded basement
Powerful Pump
Reliable System
Easy to set up
Negatives
Battery requires improvement
The Basement Watchdog kit is provided in a strong case and contains a battery box and charging unit. Moreover, this model can access Wi-Fi. You can monitor your house and the pump continuously.
This device can also link up to certain home security systems, so you can understand the state of your house even when you are not present.
The system can intake up to 2,600 gallons of water each hour when positioned at the same level as the liquid. It is important to remember that the control box of this product needs to be serviced regularly, with distilled water added every 6 months.
The management system informs you to do the task in advance. The combination of these properties could justify its price, which is slightly more expensive.
Reviews from customers:
Ray Sovsky considered the Basement Watchdog system as the best backup sump pump. He said, "Pumps water fast, and the system works great. It even comes with a backup switch. This will run for days on a good battery and keeps it charged and tested. Wow, for the money, this is the best deal I have seen."
Ron said, "Basement Watchdog battery backup systems are reliable if you pair them with a high-quality battery. One person could install it, but easier with two. Very straightforward instructions."
Superior Pump Stainless Steel Pedestal Sump Pump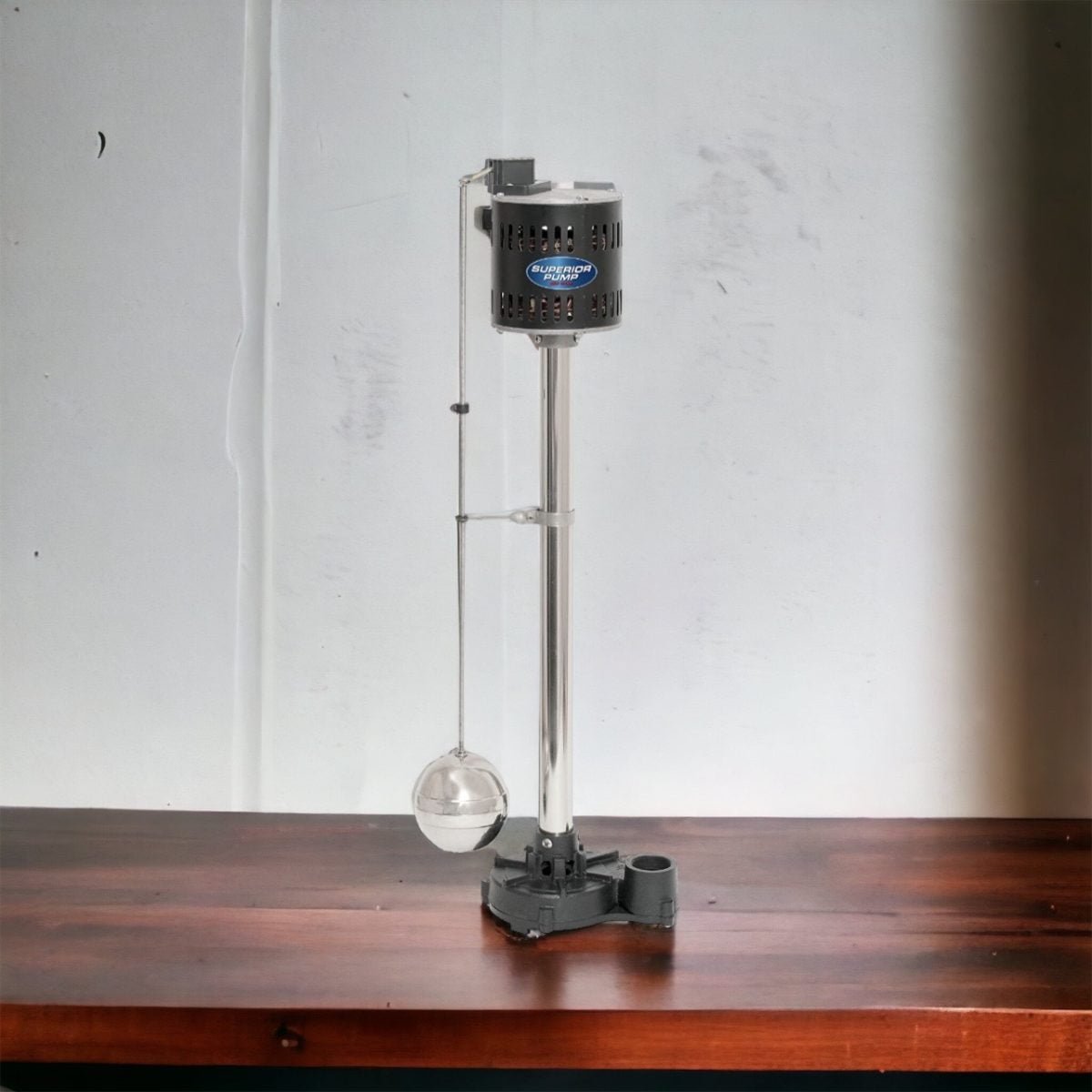 SPECIFICATIONS
Rugged stainless steel and cast iron construction
Non-corrosive, solid steel drive shaft, float ball, and impeller
Fully adjustable automatic switch
Corded electric power source
CSA Certified
Positive
Smooth running sump pump
Good quality pump
Easy to install
Well built
Affordable
Negatives
Short cords can restrict power access
A pedestal type of sump pump has the motor mounted at a higher level but still provides the same level of operation and performance. The pump is not placed underwater due to the pedestal assembly.
This decreases the overall deterioration of the pump, which can endure longer than other submersible pumps.
The ⅓-HP pump from Superior Pump consists of all stainless steel components, including the drive shaft, cover, float ball, rod, and rod guide.
The device's foundation is constructed with cast iron to ensure it stays secure and is weighted down. The motor is kept cool by air circulation and can pump up to 3,000 gallons per hour. It is also able to raise water up to 25 feet in height to take it away from the area.
It is essential to have an energy source nearby for the 10-foot power cable. The base is 12 inches wide to fit in the sump basin.
Reviews from customers:
Gordon B claimed that Superior Pedestal Pump worked like a champ. He said, "Water was lifted about 10 feet through 1 1/4″ PVC with no problem. It ran about 5 weeks, 24 hours a day, until the water table finally went back down."
Laura S. said, "This sump pump is well made and has lots of power to pump water out of my basement sump pit. Installation was easy enough to do by me. I highly recommend this 1/2 horsepower cast iron pedestal pump because it can withstand heavy use during the rainy season."
Basement Watchdog Sump Pump System
SPECIFICATIONS
73.3 gallons per minute (maximum flow rate)
Cast iron material
Battery powered source
Pre-assembled system
Includes emergency battery backup sump pump system
Dual float switches
The fluid sensor monitors the fluid level of the battery
Compact design
Positive
Inherent backup pumping system
Comes pre-assembled
Indicator Panel
Great Design
Easy to install
The basement Watchdog pump appeals to me because it possesses a built-in backup system. The dual-float controller activates if the primary float ceases to function.
This sump pump has an alert system, making it a breeze to install, even for those with limited awareness of plumbing.
The basement Watchdog pump is able to pump a maximum of 3,720 gallons every hour when there is no lift and 3,100 gallons in an hour at a 10-foot lift. This system comes with a backup that can transfer up to 2,000 gallons of liquid per hour and even 1,000 gallons per hour in the event of a power failure.
The monitoring panel works around the clock and notifies a variety of signals, including pump activation or malfunction, battery replacement, power disruption, need for water in the battery chamber, and whether the setup is working correctly. The battery is an additional expense that needs to be purchased separately, thus driving up the system's price.
Reviews from customers:
Derek Oesch said, "The basement watchdog is an excellent product that is well designed. It was very easy to install, with built-in check valves and only one pipe connection. There's an audible alarm and a control panel to tell you what is wrong. There's also a test button to test the battery-powered pump. Everything seemed high quality."
Louie Draxler said, "The installation was easy. It works much better than what I had, too. This drains the well and has a built-in check valve that works instantly."
Ridgid Stainless Steel Dual Suction Sump Pump
SPECIFICATIONS
Corrosion-resistant coated steel housing
Stainless steel fasteners for long life
Float guard protects float & switch for dependable operation
The dual suction design removes debris and resists airlock
Stainless steel construction with cast iron base
Positive
High-performance, energy-efficient motor runs virtually silent
Easy to install
Very powerful pump
Passes 0.5-inch debris
Standard installation
5-year warranty
Negatives
Requires larger sump basin
Rigid Stainless Steel sump pump is my favorite choice due to its motor, which can move up to 6,500 gallons of water in an hour and pass particles up to 0.5 inches in size. In addition, it is quiet, considering its large motor.
This pump is made from stainless steel that will not corrode and can be completely immersed in liquid. Additionally, it has a vertical float switch that activates the pump when necessary.
The float guard prevents any potential breakdowns, collisions, or snags. The base is constructed from cast iron to ensure longevity and resilience.
The installation of this product does not require any special tools or materials apart from plumbing tape, as it fits standard 1.5-inch national pipe tapered thread. It is important to consider that the sump basin needs a width of at least 11 inches. Thus it is not suitable for areas that have limited space.
Ultimately, I value the 5-year warranty as an additional benefit, as this model is more costly than the smaller available options.
Reviews from customers:
One of the Home Depot customers was satisfied with the Ridgid pump. He said, "I am delighted with the performance of this brand. I purchased this as a backup because I need reliability to discharge 24/7 year-round. This unit has performed flawlessly and has a fair price and a good warranty."
Another HomeDepot customer considered Ridgid pump a sump pump for noobs! He said, "This pump is super easy to install. The pump removed about 25 gallons of water in less than 5 seconds. Super quiet as well."
Superior Pump Cast-Iron Submersible Sump Pump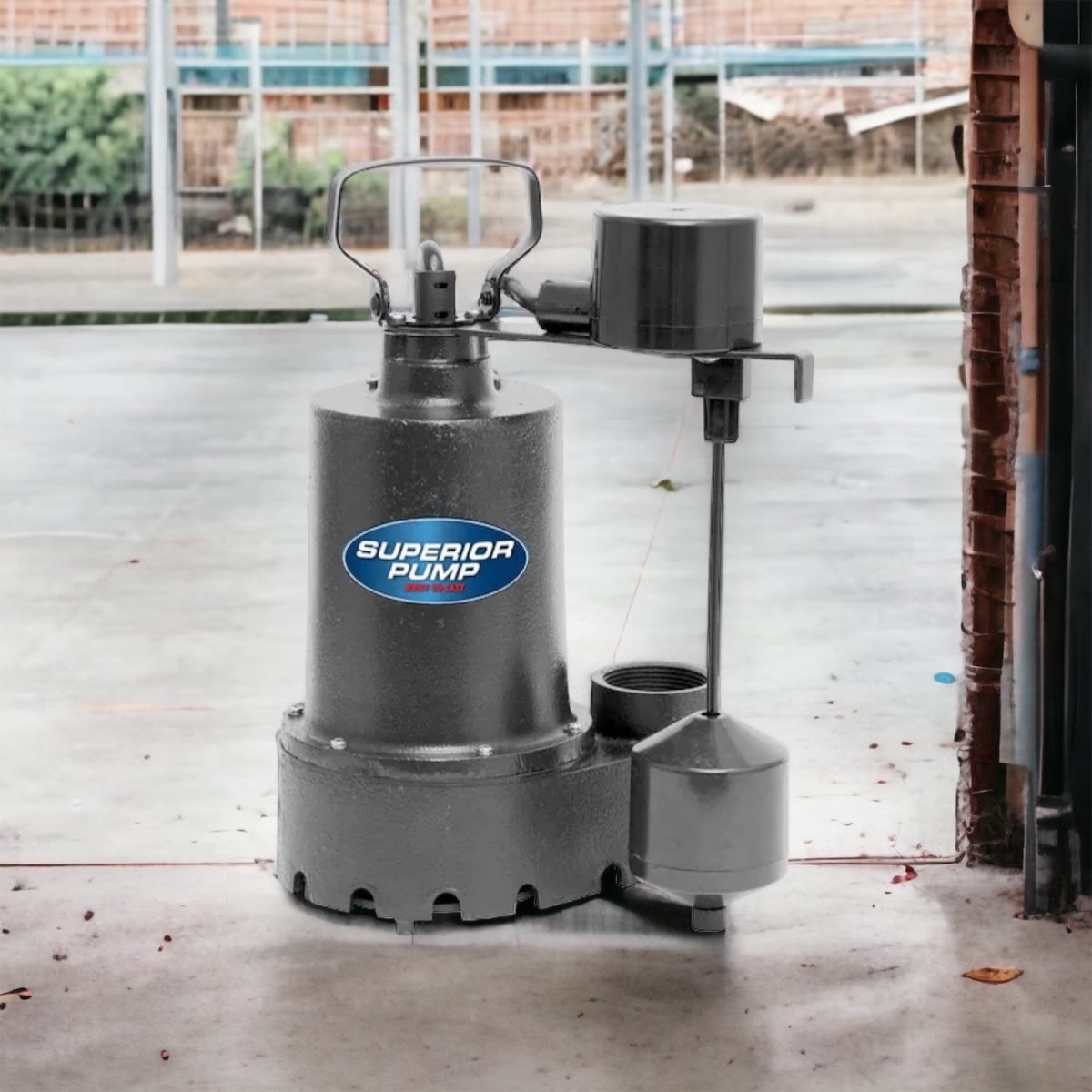 SPECIFICATIONS
46 cubic feet per minute (Maximum flow rate)
Rugged cast iron construction
Vertical float switch
Cast iron material
AC power source
Durable
Positive
Great pump for the money
Very powerful
Good quality pump
Easy to install
Solid design
Effective
Durable
Negatives
The float is short, which may accelerate rusting of the pump
This device has a piggyback plug that allows homeowners to turn on the pump to expel up to 2760 gallons of water per hour with the push of a button or manually.
The pump is securely held inside the pit by a heavy-duty cast-iron frame encompassing a ⅓-horsepower motor.
1/3 HP pump moves up to 2,760 gallons per hour. In addition, the pump lifts water to 25′ of vertical height. I appreciate the pump's effortless installation.
These superior pumps are built to last, engineered with quality components, and 100% factory tested.
On the other hand, a few people mentioned that the sump pump's cast iron components corroded too quickly, making the appliance ineffective for a few customers. Additionally, some users mentioned that the float switch was too small, which resulted in too much water remaining in the area.
Reviews from customers:
Richard Perkins is happy that the Superior sump pump saved his bacon this year. He said, "The pump has worked overtime pumping water out of our crawl space. The float is a better design, and the pump does not clog. I like the fact it has a metal impeller. I believe we will get years of use out of this pump."
Rich J said, "Superior sump pump was way more durable than expected. I love the automatic float sensor that turns the pump on when the water levels get high. Highly recommend it."
Wayne Basement Digitally-Connected Sump Pump
SPECIFICATIONS
Stainless steel material
Corded electric power source
Pump up to 5,490 GPH
Proudly assembled in the USA for quality
Warrantied for 5 years
Positive
A great product that meets all expectations
Incredibly quiet and powerful
Excellent submersible pump
Amazing customer service
Easy to install
Solid machine
Good value
Negatives
Requires a large sump basin
This high-tech 3/4-HP stainless steel pump allows you to check up on your basement from your cell phone, even when you are not at home. The genuine advantage of this product is what makes it worth the expensive cost.
As long as you have access to Wi-Fi, it is possible to monitor the water quantity, how the pump operates, and any warning signs that the pump might require servicing or fixing.
This apparatus can dispense a maximum of 5,490 gallons per hour, allowing it to clean sizable areas rapidly. It is equipped with conventional 1.5-inch NPT plumbing fittings and does not necessitate an expert to set it up.
Nevertheless, the sump basin for this setup needs to have a minimum diameter of 15 inches, so you may have to extend the size of the area you have to accommodate the bigger unit.
Reviews from customers:
Gregory T Lees considered the Wayne Basement pump as a tremendous submersible pump! He said, "I highly recommend this pump. It was quick and easy to install. Make sure you have an inch-and-a-half male adapter and inch-and-a-half PVC pipe to hook to the discharge if you use the pump for permanent installation."
Rob W said, "This sump pump works as expected. It has a high pumping capacity, preventing sump overflowing."
Zoeller Submersible Sump Pump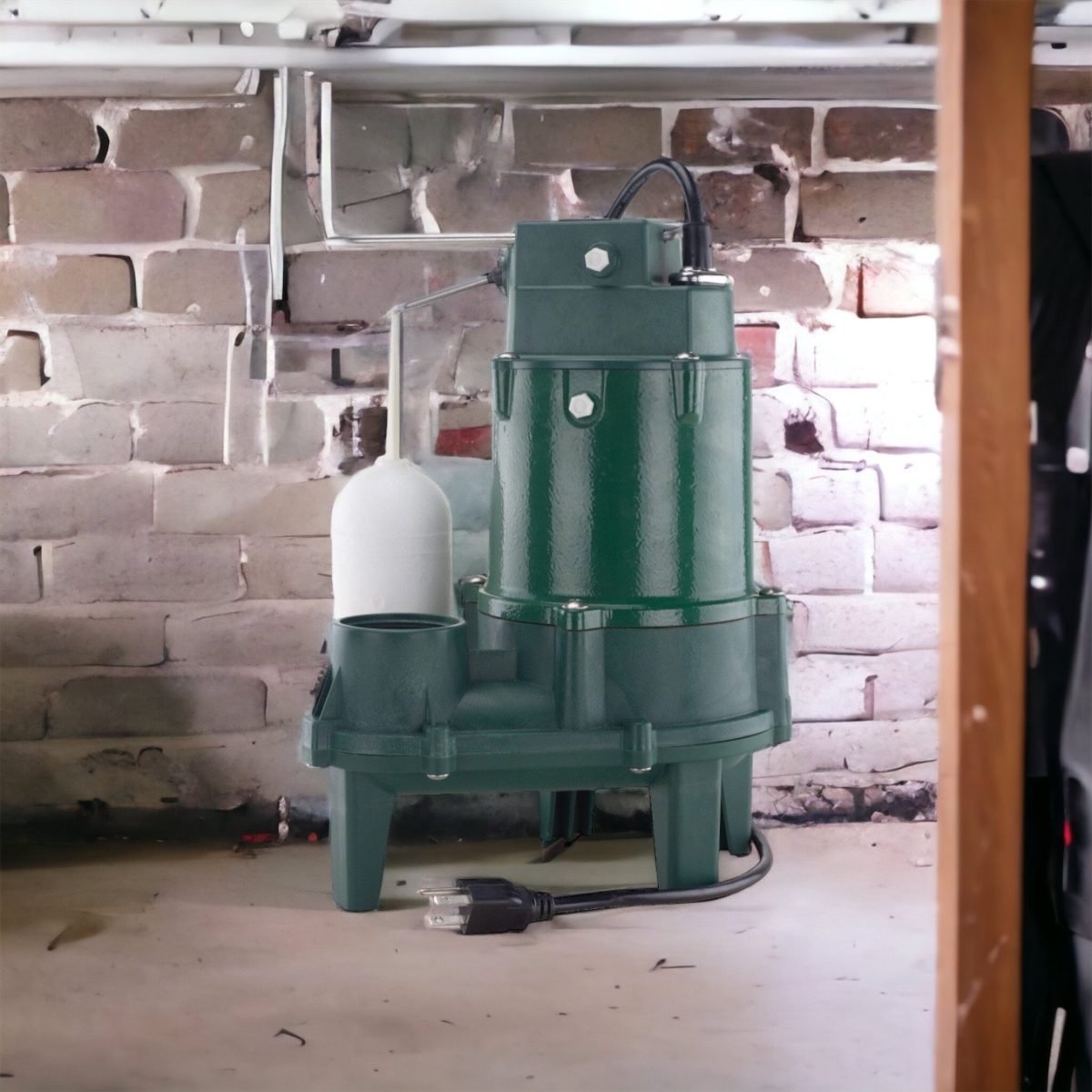 SPECIFICATIONS
Engineered thermoplastic base & cast iron switch material
Battery powered source
Easy installation
Positive
Can move water quickly
Very durable
Reliable power
Good price
This heavy-duty cast iron pump is exceptionally sturdy, able to lift and move up to 15 feet of water out of your cellar at a rate of up to 2,680 gallons per hour.
This pump is constructed of cast iron with a powder coating, which makes it much more substantial than stainless steel or plastic pumps, as it weighs more than 20 pounds.
The product's weight can make it difficult to move into place, so it may be necessary to enlist the help of two people for the installation process, even though it is not complicated.
This product also has a longer life span and runs silently while in use. So it won't be a headache for you.
Reviews from customers:
Kyle, a plumber, said, " I have used Zoeller pumps for years, and they have never failed me. Good quality, long-lasting pumps. You can't go wrong with Zoeller. Best bang for your buck."
Dave said, "I use this pump for my laundry, and it pumps water up about 7ft vertically with a check valve with no problems. This is much better than the laundry pumps that mount under the wash tubs."
Wayne Thermoplastic Submersible Multi-Use Pump
SPECIFICATIONS
It comes with iSwitch technology
Automatic pumping
Efficient design
Proudly assembled in the USA for quality
Positive
Makes a great pool cover pump
Nice little pump with solid state shutoff
Lasts a long time
Easy to install
Value for money
Negatives
Leaves 1/2 inch of water remaining
The Wayne thermoplastic sump pump is the perfect option if you have a limited area. It is economical and takes up less room than other items of the same variety.
This device is incredibly compact, measuring only 6.5 inches in height, and can fit in tight places, such as crawl spaces. It is suitable for use on flat surfaces and can handle various tasks, from roofing jobs to cleaning fish tanks.
When the water level is at its highest, this device can pump 3,000 gallons of liquid every hour. However, when the lift is 20 feet, the capacity reduces to 250 gallons per hour.
This device does not have a float mechanism like other similar items. Instead, it uses a sensor that can detect when the water level reaches 1.75 inches or higher and switches the device on, and when it falls to 0.5 inches or lower, the device turns off.
This might not be your preferred choice if you want to purify the water completely. However, this does mean that you don't have to constantly monitor the pump and be concerned that it will overheat.
Reviews from customers:
James considered Wayne pump as a great pool cover pump! He said, "This pump removes the water fast enough that it never builds up even in the heaviest spring rain storms. The water comes flying out of a garden hose just like it's hooked up to the faucet. Very glad I bought this, and I have no regrets."
Kevin L. said, "It is a good pump that turns on and off with no float. This one turns on when it senses water. I have been using it for months with no issues, and it fits standard garden hose!"
When you're looking for a new sump pump, there are 4 major types:
1. Submersible
Submersible sump pump systems are in a pit beneath a basement's ground level. The pump water comes out of the cellar if water enters it. When water levels increase, the sensor on the submersible pump turns on & starts pumping water out of the basement through a pipe.
Submersible sump pumps are quiet & more out of the way than other pumps as they sit in a sump pump basin. They are costly.
If you wish to use a submersible pump, have an excavated sump pump basin on the basement floor.
2. Pedestal
A pedestal pump doesn't live in a sump pump basin. Instead, it is on the basement floor. A pedestal pump moves water from the base of the pump & pumps it through a pipe to a drainage area outside the house.
A motor that is not waterproof is on the exterior of the unit. They don't require the costly digging of a sump pump basin. Pedestal pumps are noisier than submersible pumps because of their motor location.
3. Battery Backup
A battery backup operates like a standard sump pump. It gets its power from a battery. A pedestal or sub-sump pump can't function when a storm knocks electricity.
A battery-powered sump pump works after a power failure has sidelined your pump, pumping water out of the basement. A battery-operated pump displaces up to 100 gallons of water.
However, a battery backup wears out during an extended power outage.
4. Combination
The best sump pump comes with a standard electric pump & a battery backup in one unit. These pumps combine a pump along with a battery backup.
Combination pumps are cost-effective. Check the minimum basin size requirements before purchasing a combination pump.
Factors To Consider When Selecting The Best Sump Pump
Here are some factors to consider before selecting the best sump pump:
Pumps
You need to understand the different types of sump pumps. It is also essential to consider the factors when choosing the best sump pump, along with its materials, ease of installation, and power capacity.
Basin Space
Sump pump basins are 30 inches deep & 18-24 inches wide. They offer 26-30 gallons storage capacity. As a small basin fills quickly, it forces the unit to work harder, causing it to turn on more often.
Submersible sump pumps need specific basin sizes to operate nicely. They range from 7-16 inches in size. So, verify that your submersible pump fits in your home's basin.
Power Source
The most typical type is an electric-powered best sump pump with a 9-amp motor. An energy-efficient pump operates at half the amperage. It saves money & electricity.
A 75-amp hour battery offers electricity for a low pumping rate for several hours before a recharge. The combination pump is electric-powered & includes a 75-amp battery. It gets activated in a power outage.
Cost Material
Durability is an essential consideration when selecting the best sump pump. Sump pumps are manufactured from a lot of materials.
Plastic pumps are cheaper sump pumps, while high-end pumps are made from stainless steel or cast iron.
Cast iron builds up the cooling efficiency to disperse motor heat. Whereas stainless steel has anti-corrosive properties. Impellers can be made of either stainless steel or plastic.
No-Screen Intake
The best sump pump sucks the debris when your basement floods. The lower-end pumps have impellers that filter out the debris.
However, they clog & minimize the pump's ability to move water until manual cleaning. If your basement floods frequently, no-screen intakes of higher-end pumps.
Switch Type
There are two types of switches. One is digital, and the other is manual. A float flips the switch on & off with a manual pump.
The float increases when the water rises, flipping the switch & activating the pump.
When the water level decreases, the float decreases, & the button shuts off. This switch doesn't work for some homeowners. It often gets caught up if there is a small pump basin.
A digital switch is perfect for most homeowners. However, it may get stuck due to a small pump basin. The sensor turns on the pump when water increases to a certain level. Then, it turns off once the water drops to the sensor level.
Climate
Choosing the best sump pump depends on the weather patterns in your area. Sump pumps work efficiently in areas with mild precipitation when not overloaded with work throughout the year.
Weather conditions that require heavy water defense during rare heavy rainstorms need more horsepower to move water quickly.
Additional Features
When you're setting up a submersible sump pump in the basement, ensure to have a sump pump basin & cover. The basin should be in the correct size so that the sump pump fits nicely. If you receive a discharge hose to carry the water away from your house to an outside area, this will help!
You must also purchase a battery for the battery backup unit. The best sump pump runs on a 75-amp hour battery.
Reasons To Invest In The Best Sump Pump
Here are the reasons to invest in the best sump pump:
Low Humidity Level
Moisture can be concealed in gaps in the structure or even absorbed into the porous surfaces of wood and concrete components.
High moisture levels in the air inside your residence could be a sign of a problem, leading to mold formation.
Homeowners may be able to address this issue by using a dehumidifier. It helps prevent minor water infiltration but is not as effective as a sump pump in removing water from the source.
Home Flood Protection
There is no doubt that the primary use of sump pumps is for flood prevention. This is especially true for houses with finished basements or rooms beneath the ground level.
A sump pump installation can give you a sense of security as it can protect your belongings from water damage.
Protect Home Investment
It is advisable to take care of water issues in the home before they become too serious. A sump pump actively prevents water from entering a basement or crawl space instead of relying on floor drains that can quickly become blocked and lead to damage to the building.
FAQs (Frequently Asked Questions) On Best Sump Pump:
What is the longest-lasting sump pump?
Cast iron offers the most resilience. However, relocating can be cumbersome and comes at a higher price point. Getting a sump pump that will last for a long time is possible if it is properly maintained and taken care of.
Who is best to install a sump pump?
For plumbing leaks, it is best to contact a plumber. However, for a successful and efficient sump pump installation, it is advised to employ the services of a certified basement waterproofing professional.
What size sump pump is best?
There is no correct size. The power demand for a residence is calculated based on the size of the drainage pipe linked to the sump, the water table's depth, the basement's height, and a variety of other considerations. The majority of houses come with a 1/3 hp pump. However, the additional cost of a 1/2 hp pump is not that significant.
What is a good submersible sump pump?
The Zoeller M53 Mighty-Mate sump pump is a good submersible pump. This submersible sump pump comes with cast-iron motor components that can resist many environmental conditions and help maintain a drier environment in your home.
Summary: Best Sump Pump
A well-designed sump pump system prevents water from damaging your home's walls, floors, and other items.
The best sump pumps are quiet and can be used in all situations, from a small leak to a major flood. Many best sump pumps are also equipped with alarms to alert you when there is potential flooding in your home.
In addition, the installation of a well-designed sump pump system can help protect your home investment by protecting your basement from water damage.
The best pumps are a good solution if you're looking for a sump pump that combines power and simplicity while being affordable.
I hope this article on the best sump pump sounds helpful!