3 Best Pedestal Sump Pumps For Your Home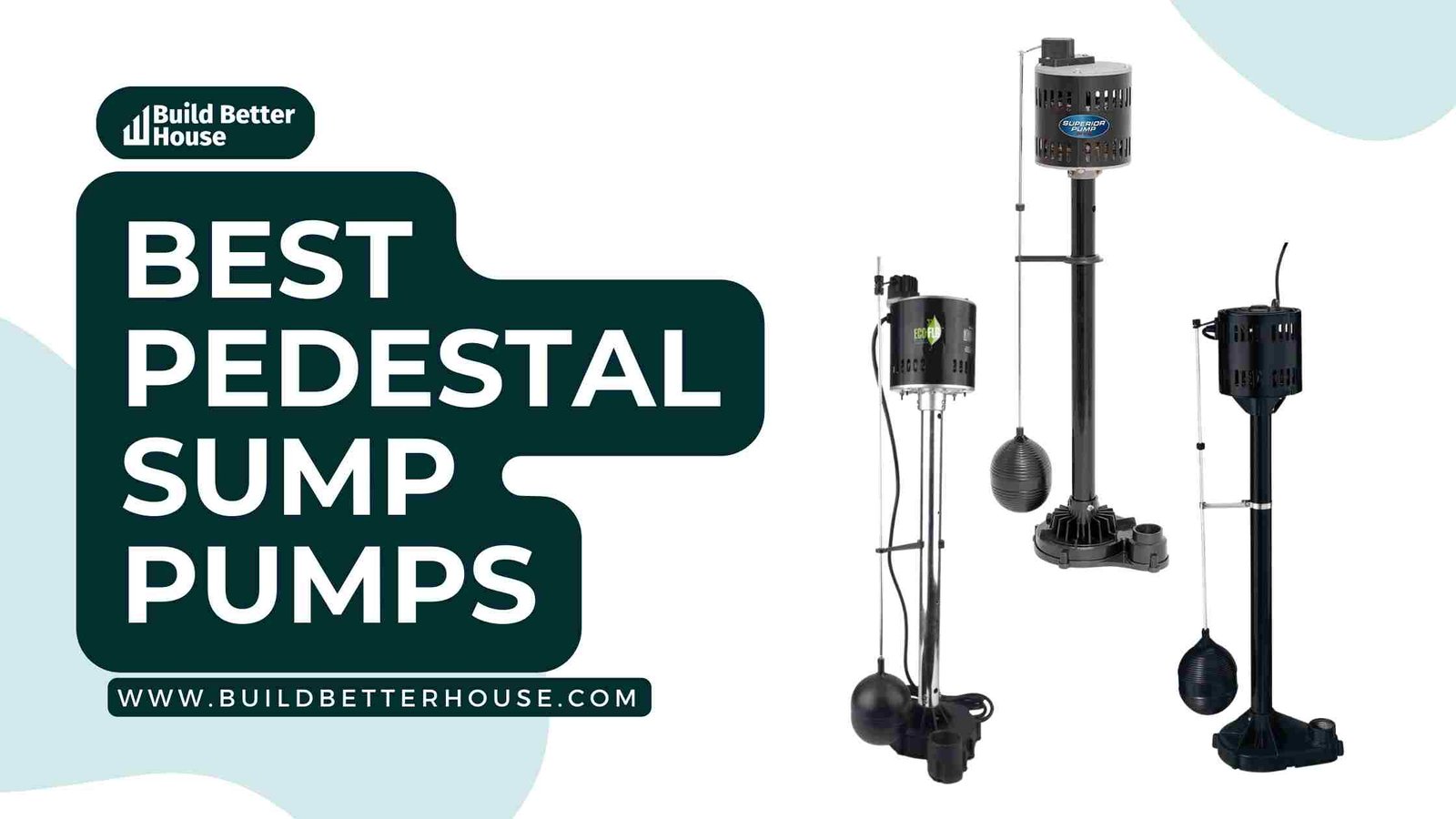 Every household should have the best pedestal sump pumps to maintain the dryness of your crawl space or basement and prevent expensive issues like water damage and mold growth.
Selecting the best pedestal sump pumps for your home can be daunting, as there are many different types, sizes, and features to consider.
This article will discuss the three best pedestal sump pumps on the market so you can choose when securing your house.
What is a pedestal sump pump?
A pedestal sump pump removes excess water accumulated in the sump. Sump pumps are essential for homes with flooding or high water tables.
The two types of sump pumps are the submersible and the pedestal. A pedestal sump pump is a larger version of a submersible sump pump placed inside a concrete or steel basin, or "sump," installed at or below ground level. The sump pump is connected to an outlet pipe placed below the sump's water level.
Moreover, the best pedestal sump pumps are made from high-quality materials and feature powerful motors that can handle large amounts of water. They also come with additional features, such as a float switch, which can help to ensure that your pump is always running at peak efficiency.
Wide varieties are available from some of the best brands like Zoller Sump pump and many more, making it tough to select the ideal one for your home.
Horsepower, construction material (plastic or cast iron), and other features and use differ by brand and model, but all pedestal pumps have a long shaft and a distinct appearance.
More horsepower equates to more pumped water, but it also equates to more money. For a clear picture, let's look at the three best pedestal sump pumps:
With a horsepower rating of 1/3, the Superior Pump 92333 is one of the most potent and best pedestal sump pumps available. This powerful motor, combined with the cast iron exterior, allows you to drain up to 3000 gallons of water each hour.
The pump is designed for use in homes that get a significant amount of water in their pump pit; make sure you need this much power, or the motor will burn out.
Heat is always a significant issue with basement water pumps. The pump drains through a 1 1/4′′ discharge tube, commonly seen in basements. A corrosion-resistant stainless steel automated float switch actuates it. When the water level rises, so the float switch activates the pump.
This pump's head is air-cooled and has lots of ventilation. Rather than storing heat in breakable sections, the steel and aluminum bodywork dissipates it.
Pros
1/3 HP motor is potent.
Pumps up to 3000 gallons per hour. 
Factory tested – no faults.
Cons
If not cleaned, they float and get sticky.
The ECO-FLO EPP33 is one of the most dependable and powerful best pedestal sump pumps available. The pump's 1/3 HP motor allows it to drain up to 3000 gallons of water each hour.
It is operated by an adjustable sump pump float switch, allowing you to tailor it to your pit. One thing to remember is that it drains with a 1 1/2′′ discharge line rather than a 1 1 1/4′′ discharge line; thus, you may require an adapter.
The pump's body comprises a cast iron shaft and a thermoplastic casing. A screen prevents extensive material from causing internal harm, while the pump intends to pass small rocks and pebbles.
It makes noise when turned on, but you won't notice it unless you have fragile floors. The pump has a head height of 20 feet and takes around 30 to 45 minutes to set up.
Pros
A 1/3 horsepower pump can drain 3000 gallons per hour.
Internal filtering and screening remove big pebbles that cause harm.
Cons
Clean once a year to avoid rust and corrosion.
Water damage from a faulty sump pump might be a homeowner's worst nightmare, but with the Flotec FPPM3600D, you can keep your basement dry with one of the most reliable and best pedestal sump pumps available.
The 1/3 HP motor drains with a 1 1/4′′ discharge line and fits inside a 12′′ basin, which was checked and certified by the plumber.
These high-powered best pedestal sump pumps comprise a thermoplastic, which means they will not rust or corrode, but they may only last for a short time under heavy use.
It works well in small to medium-sized settings and should never be used outside. It can be installed in about 30 minutes and is not audible upstairs while pumping, but it does vibrate slightly.
Pros
Thermoplastic shells are not rusty or corroded.
Even new homeowners will find it simple to install.
The filter keeps trash, stones, and rocks from harming and fouling the inside of the machine.
Cons
Some vibrations while pumping.
Who requires a pedestal pump?
Best pedestal sump pumps function similarly to classic sump pumps but take up significantly less area and have fewer mechanical issues. We recommend the best pedestal sump pumps for residences with limited space or those on a tight budget trying to save money.
Every time it rains, you risk catastrophic water damage to your home if you don't have a basement sump. You can collect and pump water from the pit basin using a sump pump and NPT drain pipes.
Guide for buyers
Purchasing a sump pump without professional assistance might be complex for first-time homeowners. There are a few vital aspects to consider. Here are the most crucial factors to consider when comparing pumps.
Pumps with greater power can transport more water at a greater head height. If you purchase the correct size motor, be sure to measure and estimate the head height.
Sump pumps must pump water from the basement above; a distance is known as head height. The higher you push the water to drain, the more influential the pump. Measure the length with a tape measure, considering any bends in the pipe.
Material for construction
A pump built of cast iron or stainless steel can last longer, but it is more prone to rust and corrosion. Thermoplastic pumps do not have this issue; however, they are more susceptible to drain line size.
When purchasing a new pump, keep the drain line size in mind. The majority of NPT lines are 1 1/2′′ or 1 1/4′′ lines. There are adapters to connect to other measures of lines, but in our experience, using the correct line prevents water leaks.
Installation considerations
It is advised to position the best pedestal sump pumps below the water level and away from the wall where the water enters the sump; moreover, make sure the pump is installed on a firm, level surface or pad.
The discharge line should be 8 feet long from the sump pump to the outlet pipe, and the internal diameter of the PVC pipe should be 1 inch. Install a sump pump cutoff switch close to the pump. The pump should be connected to one or more whole-house water sensors.
Summing up
Having the best pedestal sump pumps is an excellent technique to protect your home from floods and water damage. They are a less expensive solution, easier to install, and more reliable than submersible pumps, making them an ideal choice for any home.
When selecting the best pedestal sump pumps, you should make sure that the pump is installed on a firm-level surface and install a sump pump cutoff switch near the pump.
You will surely get the best experience with these three best pedestal sump pumps. We hope this article has been helpful to you and that by considering all of the factors raised here, you will be able to make an informed purchase!
Read more:
Sump Pump Check Valve Failure Problem? Fix It Now
7 Best Hot Water Recirculating Pumps in 2023: Tested & Compared
How To Stop The Pool Pump From Making A Humming Noise?
How To Fix Dishwasher Check Valve? Follow These Steps