How To Properly Extend The Sump Pump Discharge Pipe?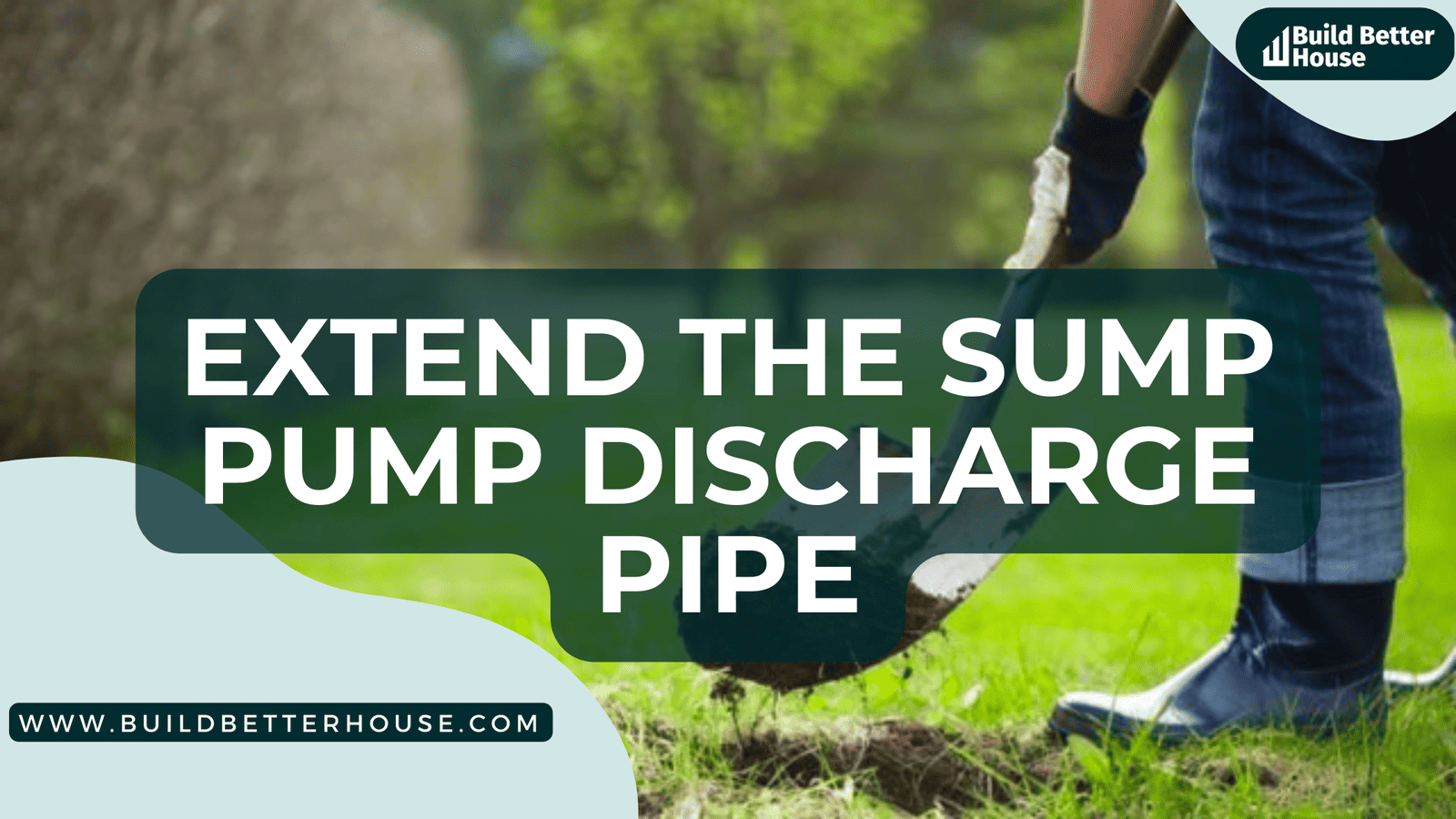 Do you have a sump pump system in place but don't know the correct way to extend the sump pump discharge pipe so that it can adequately move water away from your home? 
With this article, you can easily extend the sump pump discharge pipes and also go over details of how to do just that.
What you'll need?
The right tool and materials will make your task more efficient and effective. Let's briefly go over the tools needed:
A little shovel
A kit for extending pipes
Sealant for connecting points
These are a few things needed to extend the sump pump discharge pipe. Therefore, ensure you have all of these materials before you begin working.
What is the need to extend the sump pump discharge pipe?
A sump pump helps to prevent basement flooding by pumping water away from home. To help ensure the system's proper functioning, it is important to extend the sump pump discharge pipe away from the house and direct it away from foundations or crawl spaces.
This will help ensure that the water is directed away from your home, decreasing the potential for foundation damage or flooding and preventing odors in your basement or crawl space.
By extending the pipe, you improve the effectiveness of your sump pump by reducing
potential blockages caused by sediment and soil entering the pipe. It also helps to keep water away from your house structure, making it less likely to experience flooding or water damage.
What type of pipe should you use in sump pump discharge?
The type of pipe you should use for a sump pump discharge depends on where the sump pump is located, the local building code requirements, and other factors. Generally, flexible pipe or PVC piping is generally suitable for residential sump pumps, and corrugated polyethylene piping is recommended outdoors.
Additionally, depending on the location of the sump pump, check valves or antisiphon valves may need to be installed to ensure that water does not flow back into the pit or system.
How to extend the sump pump discharge pipe: Step-by-step instructions
Follow these step-by-step instructions to extend the sump pump discharge pipes to any location on your property.
Making a plan for how to extend the sump pump discharge pipe is the first and most important step when doing so. If your present pipe is in the wrong spot, you'll need a relocation strategy, or you'll have to try again.
Begin by obtaining precise measurements and investigating drainage and flooding. Moving the pipe might affect water flow and more, so make sure you are not flooding your yard – or the neighbors.
Excavate the area around the line
After completing the plan, begin carefully digging around the current line. Clear the space surrounding the drain pipe's top 8 to 12 inches. You can begin by digging land with a large shovel, but you may need to transfer to a smaller hand shovel to avoid damaging the piping as you remove the dirt.
If you are laying extra underground drain lines, you will need a larger shovel and may need to contact the city to ensure no other subterranean pipes are damaged. Make sure to dig to the proper depth to reach the line.
Once the dirt has been removed, begin laying and connecting the drain lines. Finish all digging and dirt removal before arranging the lines as straight and levelly as possible.
Keep in mind that pumping water uphill and beyond 90-degree twists is tough, so attempt to create a path with as little resistance as possible, or you will need a more powerful sump pump.
After laying the new drain lines and positioning them perfectly, it's time to seal them, so they're watertight. Begin by screwing the piping and joints until they can't be fastened.
If you overtighten, you risk shattering the lines in less expensive systems. If you want an even tighter seal, add a bonded sealer to the joints – remember that it will permanently attach the pipes in that spot!
Relocating your drain lines will be ineffective if they remain in an inconvenient location above ground.
After the lines have been sealed, it is time to bury them and receive the grass. Mark and map where your lines are buried if you need to dig them again.
Taking pictures of your drain lines from various angles with your phone is the simplest way to mark their location.
Make a small note on the side of your house where the pipes depart and another along the fence if they end near your fence line.
Before the following major storm, test the system to ensure everything works. The best approach to testing the system is to :
Fill the sump basin with water using a garden hose until the float switch rises and the pump turns on.
You can use several big buckets of water if the hose doesn't reach it.
Check the exit drains to ensure the water flows out the other end as it drains from the pit.
Following the steps outlined above, you can easily extend sump pump discharge lines in no time!
Similar Tutorials
Protect your house from water damage by locating and repairing a leaking sump pump before it's too late. Today, we brought you this guide in which we go over step-by-step instructions to deal with the sump pump leaking issue!
Do you have a clogged shower drain? Use our step-by-step tutorial to solve the problem easily. Learn how to solve the clogged shower drain problem without causing stress!
Don't let water bubbles on the ceiling ruin the look of your home! We provided an easy step-by-step repair for water bubbles on the ceiling in this article.
Wrapping up
With this article, you can adequately extend the sump pump discharge pipe by following the instructions. Furthermore, regular maintenance is essential, so perform routine checks to ensure it works properly. To finish your task correctly, however, you should contact a professional if you have any doubts.
If you found this post useful, please share it with your friends and leave a comment with your views.
FAQs
1. Where should I direct my sump pump discharge?
Generally, you should direct your sump pump pipe away from your home and into an area where it can safely drain away without causing damage.
2. How often should I check my sump pump discharge?
You should check your sump pump discharge at least twice a year to ensure it functions correctly and is not clogged with debris.
3. Can I use my garden hose for my sump pump discharge?
No, you cannot use your garden hose to discharge your sump pump. Garden hoses are not designed to carry a large volume of water and will be quickly overwhelmed by a sump pump's discharge hose.
Read more:
How To Fix A Sump Pump Leaking Before Water Damage Occurs?
Zoeller M98 Sump Pump Review: How Reliable Is It?
Sewer Smell In The Basement? Why It's Happening & How To Fix It
How to Determine The French Drain Distance From House?