Best Flooring for Basement: Top Choices for Durability and Style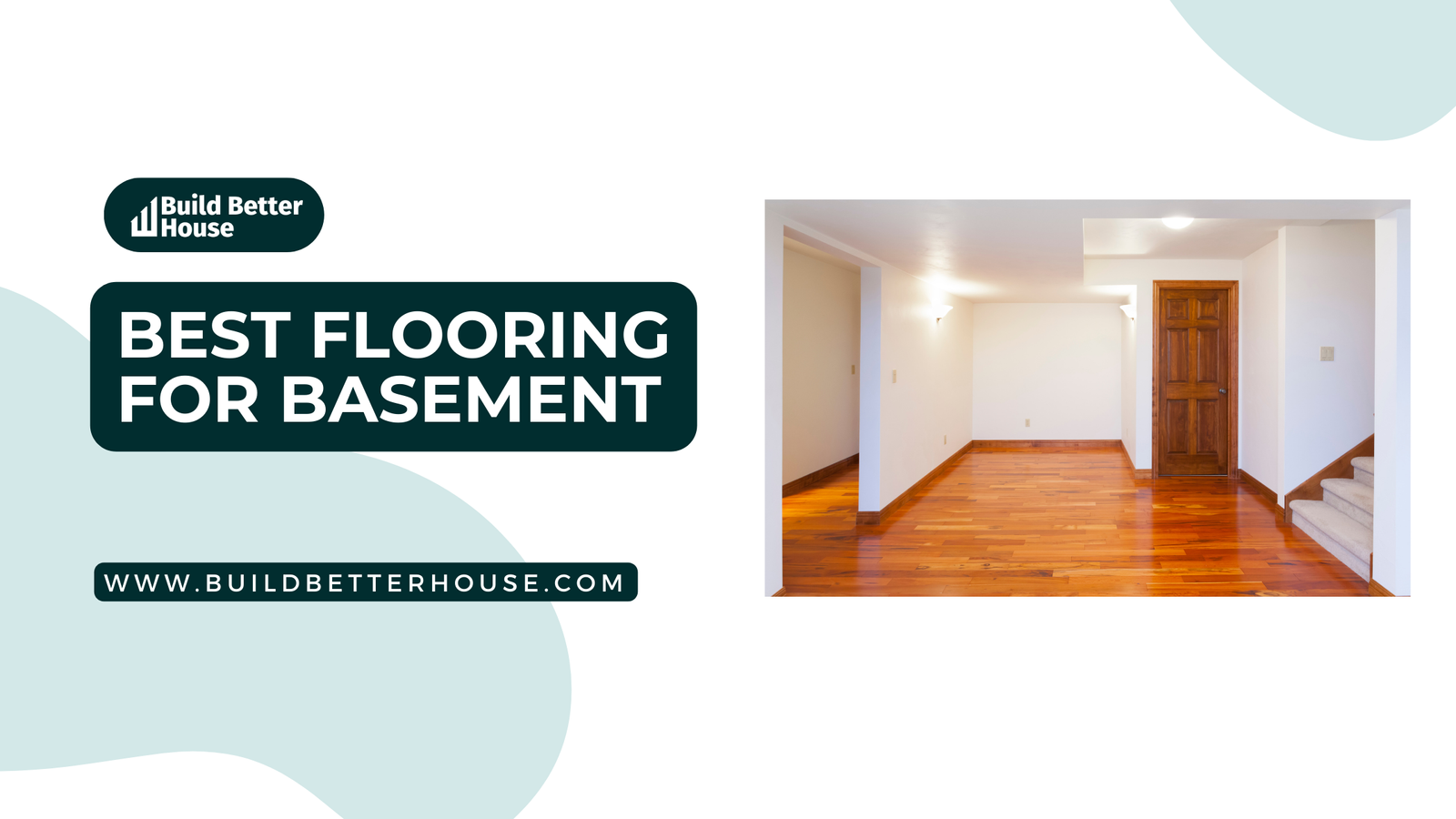 Choosing the right flooring for your basement can be a daunting task. Basements often present unique challenges due to their location below ground level, which makes them prone to moisture and dampness. With various flooring materials available on the market, it's crucial to select one that suits your basement's specific needs and conditions. In this article, we will discuss crucial factors to consider when selecting the perfect flooring material for your basement and explore some of the best options available.
Moisture and dampness are common concerns when it comes to basement flooring. That's why it's essential to choose a flooring material that can withstand these conditions and keep your living space comfortable and functional. Additionally, you'll want to consider factors such as durability, installation ease, and cost while making your decision.
To help you make an informed choice, we'll delve into the details of the various flooring material options suitable for basements and address frequently asked questions related to basement flooring. By the end of this article, you'll have a better understanding of the best flooring choices for your basement and how to select the right option for your needs.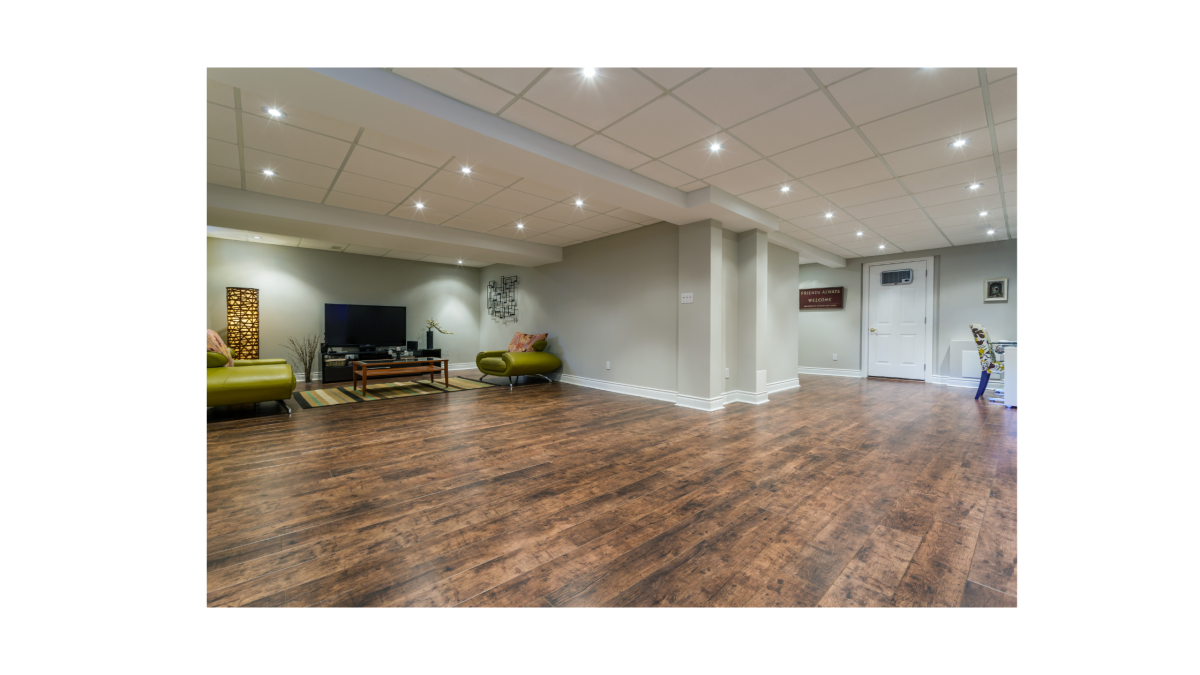 Key Takeaways
Assess your basement's moisture levels before selecting flooring material
Consider durability, installation ease, and cost when choosing flooring
Explore different materials to find the most suitable option for your basement
Moisture and Basement Flooring
When choosing flooring for your basement, it's essential to consider moisture related issues. Basements are more prone to dampness, condensation, and potential flooding, which can all lead to moisture damage in the long run.
Firstly, it's important to assess the level of dampness in your basement. If you notice persistent signs of moisture, such as condensation on the walls, it may be wise to invest in a dehumidifier to remove excess humidity before installing any flooring. Additionally, waterproofing your basement walls can help prevent water infiltration and reduce dampness.
Once you've addressed the moisture-related concerns, it's crucial to select a suitable flooring material that can withstand such conditions. One essential feature to look for is a moisture barrier. A moisture barrier, like an underlayment, is installed beneath the floor and acts as a protective layer against dampness and potential flooding.
Here are some top flooring options for basements with moisture problems:
Vinyl Plank Flooring/Vinyl Tile Flooring: These materials are water-resistant and can handle damp environments. They are also easy to maintain and install.
Tile: Ceramic or porcelain tiles are water-resistant and durable. They can withstand dampness, condensation, and water exposure without being prone to damage.
Rubber Flooring: Rubber is naturally water-resistant and ideal for basements with moisture issues. Rubber tiles or sheets can be a great option for protecting your floor from dampness.
Waterproof Laminate: Though most laminate materials are not suitable for damp environments, specific waterproof types are designed to resist moisture damage.
Keep in mind that while these flooring options are moisture-friendly, proper installation and maintenance are vital to ensuring their longevity. Make sure to follow the manufacturer's instructions for installation and care, and act quickly if you spot any moisture damage.
By addressing moisture concerns and choosing the right flooring material, you can create a comfortable and functional living space in your basement without worrying about future moisture damage.
Flooring Material Options
Tile Flooring
Tile flooring is a popular choice for basements due to its durability and water resistance. There are various types of tiles suitable for basements, including ceramic tile, porcelain tile, and stone options such as marble, slate, and travertine. Ceramic and porcelain tiles are particularly recommended due to their low maintenance and high durability. Stone tiles can add a touch of luxury but may require additional maintenance.
Vinyl Flooring
Vinyl flooring is another great option for basement flooring. Available in luxury vinyl plank, vinyl tiles, and sheet vinyl, this material is versatile and water-resistant. Luxury vinyl plank (LVP) and luxury vinyl tile (LVT) are the best choices as they're impervious to liquid and vapor moisture, which helps avoid mold growth in even seemingly dry basements. Peel and stick vinyl is an affordable and easy-to-install alternative.
Carpet Flooring
Carpet is a cozy option for basements, providing both warmth and comfort. There are a variety of carpet styles available, such as wall-to-wall carpeting and carpet tiles. To avoid issues with moisture and mold, choose synthetic carpet materials that are more resistant to water damage and be sure to include a moisture-resistant underlayment beneath the carpet.
Laminate Flooring
Laminate flooring can mimic the aesthetics of wood or stone and is an affordable alternative for basement flooring. While not as water-resistant as vinyl or tile, modern laminates with a moisture-resistant core can be suitable for basements, provided that they are installed over a proper underlayment.
Wood Flooring
While traditional hardwood may not be recommended for basement flooring due to moisture concerns, engineered hardwood offers a stable and moisture-resistant alternative. Engineered wood flooring consists of layers of real wood and plywood or oriented strand board (OSB), making it less susceptible to expansion and contraction due to moisture fluctuations.
Alternative Flooring Options
There are several other flooring options that can be suitable for basements, depending on your needs and preferences. Concrete floor can be simply painted or polished for an industrial look, while rubber flooring or mats provide a durable and soft surface for home gyms. For those interested in radiant heat systems, consider installing a compatible flooring material, such as tile or engineered wood.
Subfloor and Underlayment
In many cases, it's important to address the issue of the subfloor in a basement before installing new flooring. Moisture-resistant subfloor tiles or insulation panels can be installed to create a barrier between the concrete floor and your new flooring material. When it comes to underlayment, opt for a moisture-resistant option like uncoupling membranes to further protect your flooring from moisture and potential mold growth.
Choosing the Best Basement Flooring
Ultimately, the best basement flooring for your space depends on factors such as moisture levels, intended use, and your personal preference. By carefully considering the pros and cons of each option and ensuring proper installation, you can create a beautiful and functional basement space with the right flooring material.
Frequently Asked Questions
What type of flooring is suitable for damp basements?
For damp basements, it's essential to choose waterproof or moisture-resistant flooring options. Vinyl flooring, such as Vinyl Plank Flooring (VPF) and Vinyl Tile Flooring (VTF), are impervious to liquid and vapor moisture, making them suitable for damp basements. Additionally, ceramic or porcelain tiles can also be a good choice since they are moisture-resistant.
How to choose flooring that can withstand basement moisture?
To select flooring that can withstand basement moisture, consider materials that are waterproof or resistant to humidity. Vinyl Plank Flooring (VPF) and Vinyl Tile Flooring (VTF) are excellent choices because they are impervious to both liquid and vapor moisture. Ceramic and porcelain tiles can also be suitable options due to their moisture-resistant properties.
What are some budget-friendly basement flooring options?
Budget-friendly flooring options for basements include laminate flooring with a moisture-resistant backing, engineered wood with a moisture barrier, and Concrete Floor Paint designed for wet locations. However, bear in mind that cheaper options might not offer the same level of durability and moisture-resistance compared to higher-end materials such as Vinyl Plank Flooring (VPF) or Vinyl Tile Flooring (VTF).
Which materials provide the most durable basement flooring?
The most durable basement flooring materials are Vinyl Plank Flooring (VPF) and Vinyl Tile Flooring (VTF). Both are made from the same materials, differing only in the shape of the pieces, making them extremely durable. Ceramic and porcelain tiles can also offer durability while being moisture-resistant.
What is the ideal flooring option for basements with concrete floors?
For basements with concrete floors, a moisture barrier is essential before installing any flooring. Moisture-resistant options, such as Vinyl Plank Flooring (VPF), Vinyl Tile Flooring (VTF), or ceramic and porcelain tiles, can be installed over a prepared concrete floor with a moisture barrier. Concrete Floor Paint specifically designed for basements is another option that can enhance the appearance of the concrete floor while providing protection against moisture.
What are some warm and cozy flooring choices for basements?
To create a warm and cozy basement, consider adding rugs or carpets with moisture-resistant padding in areas where moisture is not prevalent. You can also opt for warmer flooring materials, such as engineered wood with a moisture barrier or cork flooring, which provides insulation and a comfortable feel underfoot. To enhance the cozy atmosphere, complement your flooring choices with appropriate lighting and decor.