Basement Floor Ideas: Transforming Spaces with Style & Function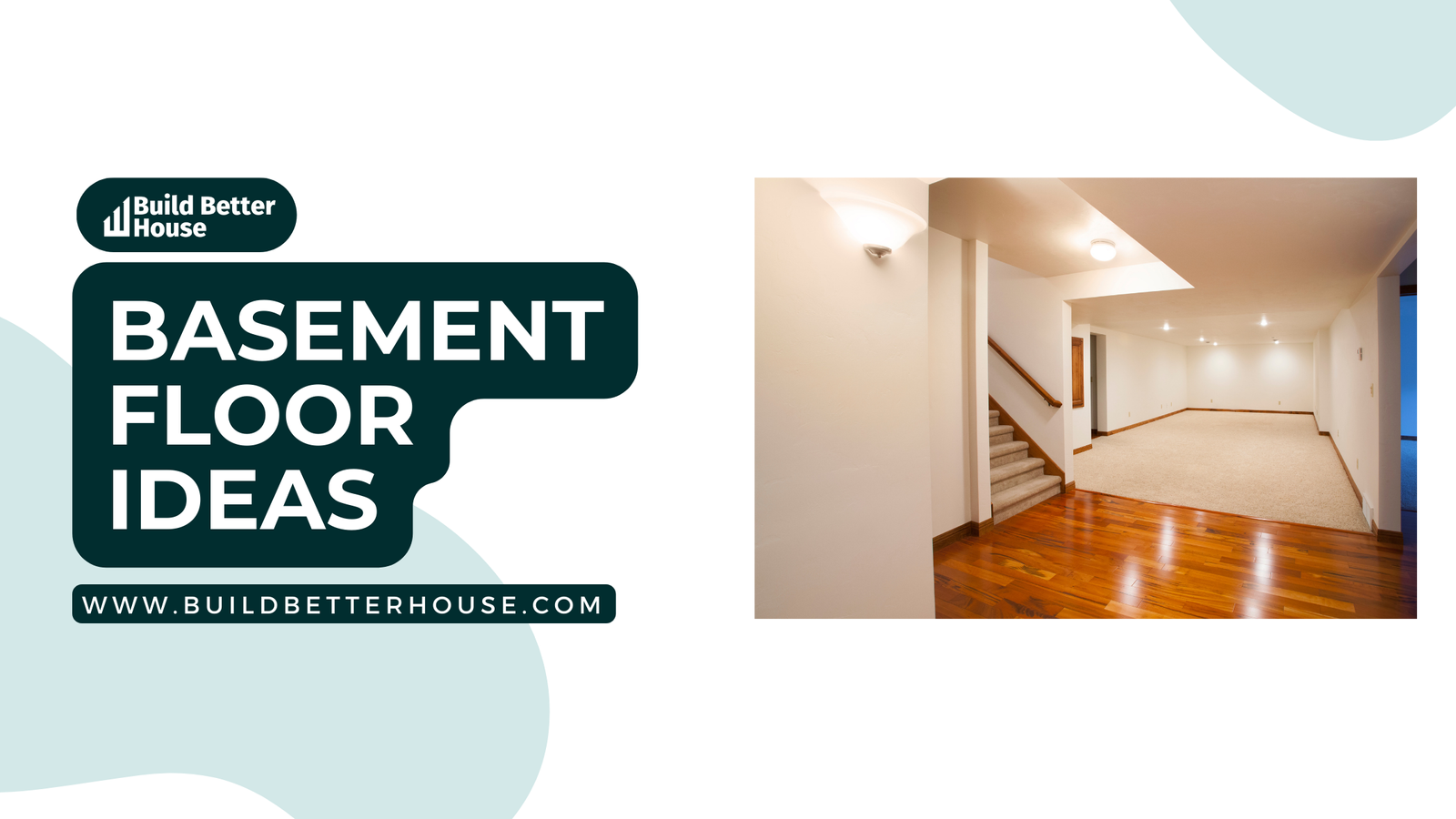 Basement flooring can be a daunting task when you are faced with a plethora of options. As the foundation of your home, it is important to choose a flooring option that meets both your design preferences and functional needs. In this article, we will explore various basement flooring ideas, taking into consideration materials, styles, and factors like moisture and durability.
When it comes to selecting the ideal basement flooring, consider how you plan to use the space, regional factors, and the potential for moisture problems. From concrete and tile to hardwood, engineered wood, vinyl, laminate, and beyond – each option comes with its own pros and cons. It is essential to weigh these factors carefully to ensure you make the best investment in your basement floor.
Key Takeaways
Consider functionality, regional factors, and moisture management when choosing basement flooring
Explore multiple flooring options: concrete, tile, hardwood, vinyl, laminate, and more
Evaluate the pros and cons of each flooring material for a well-informed decision
Important Considerations
When considering basement flooring options, it's essential to address the following factors: moisture, cost, and resale value. Keep in mind these points for confident, knowledgeable, and clear decision-making.
Moisture: Basements are often prone to moisture and dampness, which can pose a challenge for certain flooring materials. Be mindful of the humidity levels and potential water intrusion in your basement. Opt for moisture-resistant options like luxury vinyl tile, porcelain tile, epoxy coating, and specially dyed concrete, which can withstand damp conditions.
Cost: Budget plays a significant role in determining the type of flooring for your basement. Assess the prices of various materials and weigh their benefits against your budget constraints. Luxury vinyl tile and laminate can offer an affordable yet stylish look. If you have a higher budget, consider hardwood or porcelain tile for a more elegant finish.
Resale value: Lastly, consider the impact of your basement flooring choice on the overall resale value of your home. A well-finished basement with attractive and durable flooring can be a strong selling point. Material choice, design, and installation quality all play a role in maximizing the return on investment. Some popular flooring choices with a good resale value include luxury vinyl tile, hardwood, and high-quality laminate.
By keeping these three factors in mind while exploring basement flooring options, you will be better equipped to make an informed decision that suits your needs and preferences.
Concrete Flooring Options
When it comes to your basement floor, concrete can be a versatile and durable choice. There are various options for finishing your concrete floor, each with its unique benefits.
Painted concrete: One affordable way to transform your concrete slab is by painting it. Use a concrete-specific paint to ensure adhesion and longevity. Painting your concrete floor can give it a fresh look while protecting it from moisture and damage.
Stained concrete: Another option for enhancing your concrete floor is using a concrete stain, which can be either an acid-based or water-based product. Acid-based stains chemically react with the concrete's surface, resulting in a unique, marbled effect. Water-based stains create a more uniform appearance, offering a broader range of colors to choose from. Both types of stains can give your floor a sophisticated and customized look.
Epoxy: Epoxy coatings come in a variety of colors and finishes, allowing you to create a visually appealing space. More than just an aesthetic upgrade, epoxy provides a durable, water-resistant surface that's perfect for high-traffic areas. It's essential to have a clean, dry surface before applying an epoxy coating to ensure proper adhesion.
In summary, concrete flooring options for your basement can range from simple paint jobs to intricate stained designs and durable epoxy coatings. These choices allow you to create a unique, functional, and visually appealing space tailored to your preferences.
Tile Flooring
Tile flooring is a popular and versatile choice for basement floors. With various options like ceramic, porcelain, and slate tiles, you can find the perfect tile to match your design preferences and functional requirements.
Ceramic tile is an affordable and durable option for your basement floors. Made from natural clay, it's available in a wide variety of colors, patterns, and finishes. It's relatively easy to maintain and can withstand moisture, making it suitable for areas with high humidity and potential water exposure.
Porcelain tile is another excellent option for your basement. Porcelain is a type of ceramic tile made from refined clay and fired at a higher temperature. This process makes it denser, more durable, and more resistant to moisture and stains than ceramic tiles. While porcelain tiles may be slightly more expensive, their durability and longevity make them worth the investment.
Slate tiles offer a beautiful, natural look to your basement floors. Known for their durability and slip resistance, slate tiles are a practical choice for high-traffic areas and places prone to moisture. They come in a variety of earthy tones like gray, black, and brown, providing an elegant and soothing atmosphere for your space.
When choosing tile flooring for your basement, consider factors like ease of maintenance, moisture resistance, and overall design aesthetic. With a range of tile materials available, you can tailor your selection to your budget, taste, and the specific needs of your basement space.
Hardwood and Engineered Wood
When considering flooring options for your basement, hardwood and engineered wood may seem appealing for their warmth and timeless appearance. Here is what you need to know about these two flooring types and their suitability for basement installations.
Hardwood flooring is created from solid pieces of wood like oak or maple, offering a beautiful, natural look. However, traditional hardwood isn't always the best choice for basements due to its sensitivity to moisture and humidity. Since basements are prone to dampness, hardwood floors can swell, warp, and buckle.
Engineered hardwood, on the other hand, is designed with your basement's conditions in mind. Made from a thin layer of real hardwood adhered to a stable, moisture-resistant plywood or fiberboard core, these floors are less likely to be affected by moisture and humidity. In addition, each engineered wood plank receives a durable, moisture-resistant finish applied on all sides, further enhancing their protection against warping.
One of the main advantages of engineered wood floors in basements is their ability to provide the same luxurious, high-end appearance of real hardwood, while being more resilient to fluctuating moisture levels. Engineered wood floors come in various wood species, including popular options like oak and maple, giving you plenty of choices to match your taste and decor.
For the best performance in your basement, look for engineered hardwood flooring with a Stone Plastic Composite (SPC) core, which offers increased stability and water resistance. The SPC core is made up of limestone and PVC, pressure-bonded together, making the flooring less likely to succumb to water damage.
In conclusion, while real hardwood may not be an ideal choice for basement flooring, engineered wood provides a more durable, moisture-resistant alternative that still gives you an authentic wood-look finish. With a variety of wood species, textures, and finishes available, you can create a warm, inviting space in your basement with the natural beauty of engineered hardwood flooring.
Vinyl and Laminate Flooring
When considering basement flooring options, vinyl and laminate flooring are two popular choices due to their durability, versatility, and affordability. Both vinyl and laminate flooring come in various styles and designs, allowing you to customize the look and feel of your basement floor.
With vinyl flooring, you have the option of selecting from luxury vinyl tile (LVT), vinyl sheet flooring, or vinyl plank flooring. LVT gives you the appearance of ceramic or stone tiles, while vinyl planks mimic the look of hardwood. Vinyl sheet flooring is available in large rolls that provide a seamless and water-resistant surface, making it especially suitable for basements with moisture issues.
Laminates are another great choice for basement flooring, consisting of four layers bonded together to produce durable and water-resistant planks. Laminate flooring is available in various widths and lengths, allowing you to create a customized look for your basement. When selecting laminate flooring for your basement, opt for products built with a solid plastic core, as they offer better resistance to moisture and liquid penetration.
Here are a few key aspects for you to consider when selecting vinyl or laminate flooring for your basement:
Durability: Both vinyl and laminate flooring are highly durable, able to withstand foot traffic and resist wear and tear.
Water resistance: Vinyl flooring is generally more water-resistant than laminate, making it a better choice for basements prone to moisture or flooding. However, you can find laminates with solid plastic cores, which offer improved water resistance.
Installation: Vinyl and laminate flooring are relatively easy to install, with options including peel-and-stick tiles, click-lock planks, and glue-down methods. Some products even come with pre-attached underlayment for added convenience.
Maintenance: Both flooring types are easy to clean and maintain, requiring only regular sweeping and the occasional damp mopping.
Affordability: Vinyl and laminate flooring are cost-effective options that offer style and functionality without breaking the bank.
When selecting the right vinyl or laminate flooring for your basement, consider factors such as moisture levels, desired appearance, ease of installation, and your budget. With a wide range of styles available, you're sure to find a flooring solution that meets your needs and enhances the look and feel of your basement space.
Carpet and Area Rugs
When considering flooring options for your basement, don't overlook the benefits of carpet and area rugs. They can provide warmth, comfort, and style to the space, while also being adaptable to various design choices.
Carpet is an excellent choice for basements as it adds warmth and softness to the cold cement floor. It's one of the most flexible floor-covering materials and can be a welcoming addition to your finished basement. There are various types of carpets available, including plush, frieze, and Berber, catering to your specific needs and taste.
If you're looking for a versatile option, consider carpet tiles. These are easy to install and can be replaced individually if they get damaged or stained. Carpet tiles are also a creative way to experiment with different patterns and designs, allowing you to personalize your basement.
Area rugs can be used to complement the overall design of your basement and help define specific zones. They are available in various styles, patterns, and materials, ensuring that you'll find one that matches your decor and handles humidity and dirt well. Some popular and stylish options include Boho geometric, Tommy Bahama, and antique-style rugs.
To enhance the comfort of your basement flooring, adding soft furnishings such as cushioned and cozy area rugs can make the space more inviting. Combining carpets with other flooring options like vinyl planks or stone tiles can strike the right balance between comfort and style.
Remember to consider the following when choosing carpet and area rugs for your basement:
The humidity and moisture level in your basement
The purpose of the space (e.g., living area, playroom, bedroom, etc.)
Maintenance (ease of cleaning, stain resistance, and durability)
Personal style and design preferences
By selecting the appropriate carpet or area rug, you can transform your basement into a comfortable, stylish, and functional space that perfectly suits your needs.
Alternative Flooring Materials
When considering flooring for your basement, you have a variety of alternative materials to choose from. Here's a look at some unique options that can enhance both the aesthetics and functionality of your space.
Cork Flooring: This eco-friendly option provides a comfortable and warm surface underfoot. Cork flooring is naturally resistant to mold and mildew, making it a suitable choice for basement environments prone to moisture. Furthermore, its insulating properties can help in maintaining a more consistent temperature in your room.
Rubber Flooring: Durable and waterproof, rubber flooring is an excellent solution for basements that may experience high levels of foot traffic or require moisture resistance. Commonly available in tiles or rolls, this type of flooring is easy to install and maintain. In addition, rubber is slip-resistant and provides cushioning that can be particularly beneficial in workout or play areas.
Bamboo: Although not as common in basements, bamboo can be a stylish and sustainable choice for your space. Engineered bamboo flooring is less susceptible to moisture-related issues than traditional hardwood, making it a feasible alternative for below-grade installations. Keep in mind, though, that bamboo's susceptibility to scratches and dents may require a bit more care and maintenance.
Stone-Look Flooring: If you're in search of a more elegant and sophisticated appearance, stone-look flooring options such as luxury vinyl or porcelain tile can recreate the look of natural stone without the high cost or maintenance requirements. These materials are waterproof, easy to clean, and can handle the changeable humidity often experienced in basements.
As you consider these alternative flooring materials for your basement, take into account factors such as your decorative preferences, budget, and the specific requirements of your space. The wide range of available options ensures that you can find a flooring solution that perfectly suits your needs while adding value and appeal to your home.
Basement Functionality Considerations
When planning your basement flooring, it's essential to consider its functionality and how you'll be using the space. This will help you choose the best flooring options that match your needs and preferences.
If you're turning your basement into a playroom for your kids, you'll want flooring that's comfortable, durable, and easy to maintain. Options like vinyl planks and carpet tiles would be a great fit, as they offer a soft surface for play, are cost-effective, and can withstand wear and tear.
A cozy media room or man cave calls for a more luxurious feel. In this case, you might lean towards engineered hardwood or laminate flooring. These materials mimic the look of real wood, providing a warm atmosphere without the hefty price tag or potential moisture issues that come with solid hardwood.
For a home gym, you need a sturdy and slip-resistant surface that can support heavy equipment and is easy to clean. Rubber flooring or interlocking foam tiles would be ideal choices for this purpose. You can also add gym mats over a more universal flooring option like vinyl or laminate if you prefer the aesthetic.
For storage space, you may focus more on utility and easy maintenance. A simple concrete floor with a moisture barrier or epoxy coating could be a suitable choice. Concrete is durable, easy to clean, and resistant to chemicals, making it ideal for storing items long-term.
Remember that each flooring option has its pros and cons, so weigh those factors against your intended use for the basement to make an informed decision. This will ensure you create a space that is practical, comfortable, and in line with your desired functions.
Subfloor and Moisture Management
When finishing your basement, it's crucial to consider subfloor options and moisture management. A well-selected subfloor not only provides insulation and stability for the flooring material, but also acts as a moisture barrier to protect your basement from water-related issues.
Subfloors play a significant role in providing a stable foundation for your basement floor. Materials such as plywood, oriented strand board (OSB), or specialized basement subfloor panels can be used for this purpose. These panels, such as DRIcore, are made from OSB and a premade moisture barrier, typically constructed of polyethylene or durable foam, which adds an extra layer of protection against moisture.
In addition to subfloors, a moisture barrier is essential for preventing water infiltration and avoiding dampness in your basement. Moisture barriers can be integrated with the subfloor panels or installed separately, such as plastic sheeting applied directly to the concrete slab before laying the subfloor. This extra layer of protection helps maintain a dry environment, prolonging the lifespan of your flooring material.
Consider incorporating underfloor heating or radiant heating systems to enhance the comfort of your basement. These systems ensure an efficient distribution of heat throughout the space, while also reducing the risk of moisture build-up. Radiant heating systems use tubes filled with hot water or electrical wires installed beneath the subfloor, which evenly distributes warmth across the floor, maintaining a cozy basement environment.
In summary, carefully selecting a subfloor with a combination of stability, insulation, and moisture protection is crucial for your basement floor's longevity. In addition, incorporating underfloor or radiant heating systems can help maintain a comfortable and dry environment. Remember to prioritize moisture management and invest in a high-quality subfloor to enjoy a beautiful, functional basement for years to come.
Regional Tips
In Chicago, it's essential to consider the regional climate and environmental factors when choosing a basement flooring option. Since Chicago experiences extreme temperature fluctuations and a relatively high humidity level, you'll want to select flooring that can withstand these conditions. For a green and environmentally friendly option, consider using cork flooring. Cork is a natural insulator that retains warmth and acts as a great sound barrier which makes it an ideal choice for your basement.
Another green alternative in basement flooring is bamboo. Bamboo is a sustainable and rapidly renewable resource, making it an eco-friendly option. Like cork, bamboo insulates well and is suitable for the temperature fluctuations commonly experienced in Chicago basements. Both cork and bamboo flooring options come in various styles and finishes, providing an aesthetically pleasing yet functional choice for your basement floor.
In Chicago, it's also essential to consider moisture and potential water damage in your basement, as the city is prone to heavy rainfall and flooding during certain seasons. Epoxy coatings or waterproof paint can be applied to concrete flooring as a protective layer against moisture and potential mold growth. These options not only protect your basement floor but can also be customized in terms of color and finish to suit your desired look.
Some other practical flooring options for Chicago basements include luxury vinyl plank and porcelain tiles. These materials are not only durable and moisture-resistant but also available in various styles and designs, allowing you to create a comfortable and visually appealing space in your basement. Both of these options are also fairly easy to install, which can save you time and effort during the renovation process.
To summarize, when choosing a basement flooring option in Chicago, consider factors such as temperature fluctuations, humidity, and potential water damage. Green options, such as cork and bamboo, are ideal choices for eco-conscious homeowners, whereas epoxy coatings, waterproof paint, luxury vinyl plank, and porcelain tiles offer durability and moisture resistance. By taking these regional tips into account, you'll be able to select the best-suited flooring option for your basement and create a comfortable, functional space for you and your family to enjoy.
Frequently Asked Questions
What are the best waterproof flooring options for basements?
Some of the best waterproof flooring options for basements include luxury vinyl tile (LVT), ceramic or porcelain tile, and sheet vinyl. These materials are durable, resistant to moisture, and can handle the humidity often found in basements.
What cost-effective solutions can be used to cover basement floors?
For cost-effective basement flooring, consider options like concrete paint or stain, laminates, and carpeting. Concrete paint and stain can be an affordable way to enhance the appearance of your basement floor while laminates and carpeting provide more comfort underfoot.
Which flooring types are suitable for concrete basement surfaces?
Flooring types suitable for concrete basement surfaces include LVT, ceramic or porcelain tiles, sheet vinyl, and stained or painted concrete. These options can withstand the moisture and humidity present in many basements and are compatible with concrete surfaces.
What are some healthy flooring choices for basements?
Healthy flooring choices for basements consider indoor air quality and potential allergens. Look for options like low-VOC (volatile organic compounds) flooring materials and products that resist mold and mildew growth. Some examples include cork flooring, engineered wood with low-VOC finishes, and ceramic or porcelain tiles.
What are some popular epoxy floor designs for basements?
Epoxy floor designs for basements come in various colors and patterns. Some popular options include solid colors, multi-colored flake systems, and metallic epoxy coatings. Epoxy floor finishes can be customized to create unique designs that suit your personal style and complement your basement's décor.
What are unique painted basement floor trends?
Unique painted basement floor trends involve experimenting with different colors, patterns, and textures. Consider using stencil designs, geometric patterns, or faux finishes that mimic the appearance of natural stone or hardwood. Be creative and choose a design that reflects your personal taste and style. Remember to use high-quality floor paint that can withstand foot traffic and moisture.