Fluidmaster vs Korky: Which Toilet Replacement Is The Best?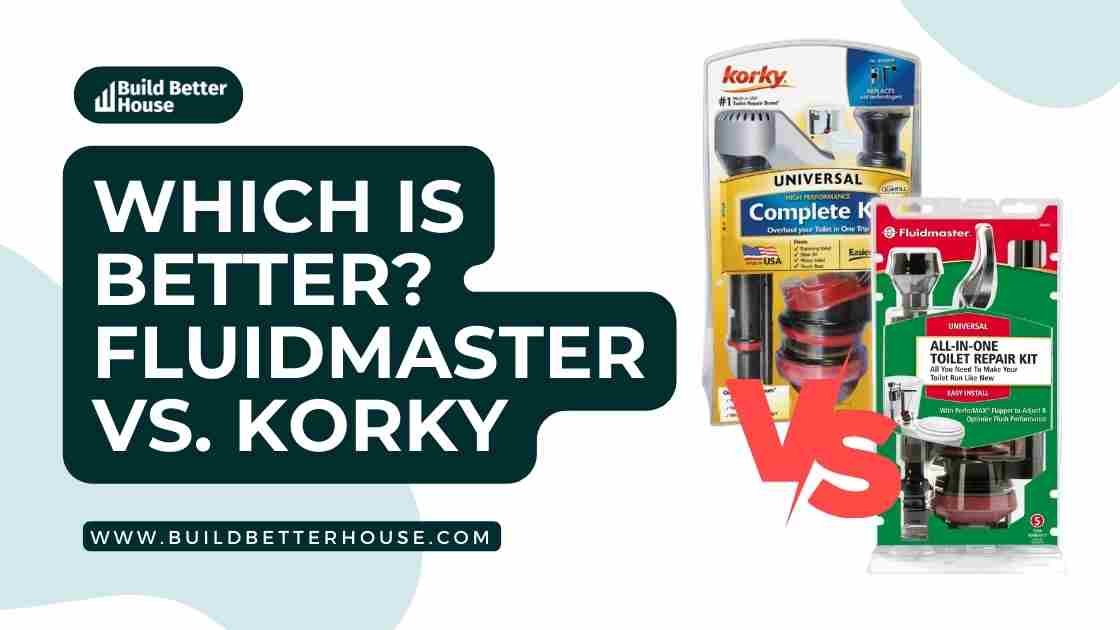 Are you trying to decide between Fluidmaster vs Korky Toilet Replacement Valves? Each of the two manufacturers offers at least one all-in-one toilet repair kit, which is a better fit for your home.
You must be careful about the quality of the equipment you connect to your toilet if you want to avoid needing regular maintenance. Choosing between Fluidmaster vs Korky can be difficult if you deal with toilet repair and replacements. These brands are both famous, so you should weigh them against each other carefully.
This post will compare the two best toilet repair kits and attempt to answer: Fluidmaster vs Korky, which is better. Let's get started.
Fluidmaster
Fluidmaster is one of the world's leading toilet component manufacturers, and its history bears this out. In 1957, Adolf Schoepe developed the first pilot flush valve technology. Before the advent of new technology, toilets were inefficient.
Fluidmaster sells more than 100 million toilet repair products every year. They are also the foremost manufacturer of tank replacement valves, with a global distribution network spanning over 90 nations.
Fluidmaster is proud of its history and accomplishments and is committed to delivering the finest services to its clients.
Korky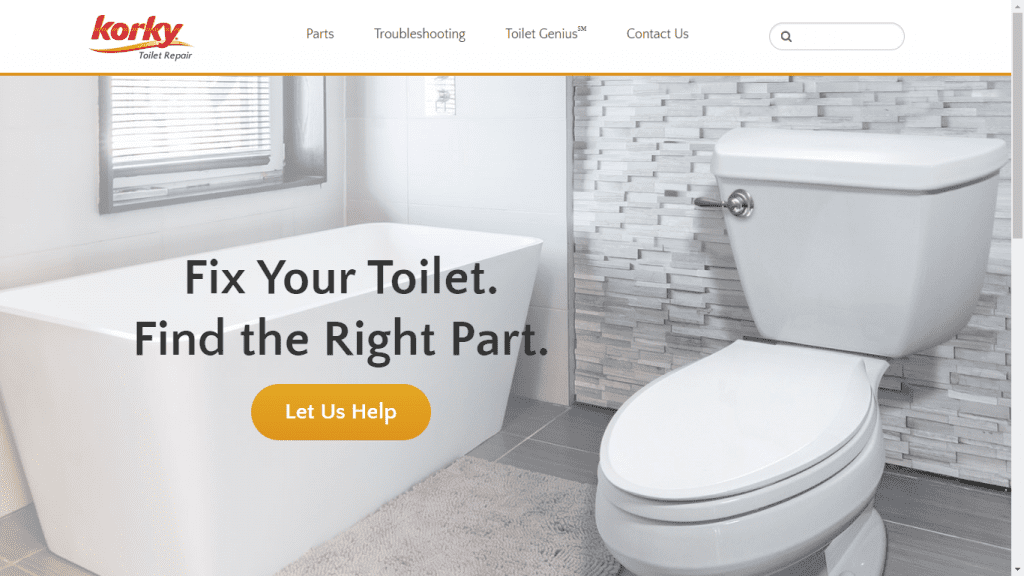 Korky is a Made in the USA company headquartered in Wisconsin that produces and manufactures various toilet repair products. The red flappers manufactured by Korky are renowned for their resistance to chemicals and Chlorazone rubber.
Korky is one of the most thriving toilet repair companies, and for a good reason. Korky toilet repair solutions are available for over 90% of toilet models. Korky's Toilet Genius help tool is also available to help you through the repair process.
Whether you're looking for the correct part, fixing issues, or installing new Korky parts, you can use the tool in several situations.
Fluidmaster vs Korky: Pros & Cons
Now that we know about both companies let's examine carefully the advantages and disadvantages offered by the toilet replacement kits of Fluidmaster vs Korky.
Korky: Pros & Cons
There are numerous reasons to choose the Korky Toilet Repair kit for your toilet problems.
| | |
| --- | --- |
| Pros | Cons |
| Affordable: The Korky toilet repair kit usually costs around $20. This option is ideal for homes with multiple bathrooms or people who like to help their neighbors. It's more cost-effective to purchase the whole kit than to buy individual components. | Loud float valve: Noisy float valves from Korky appear to be a common problem. This has determined some consumers to turn to the Fluidmaster competitor instead. |
| Adjustability: The Korky toilet repair kit has a universal fit that matches many toilet brands. | Poor quality of materials: Some consumers have also complained about the quality of materials in Korky toilet repair kits. People mention problems such as cheap and soft plastic parts and thin rubber. |
| Efficiency: The Korky toilet repair kit can solve any toilet issue. The fill valve, refill tube, metal refill tube, flapper, flush valve, bowl gasket, and hardware are all included. You don't need a hacksaw to perform repairs using this toilet kit. | Leaking water: Another common complaint was water continuing to flow into the toilet tank and in the toilet. This leads to more expensive water bills. |
| Durability: Rubber parts from Korky are designed to withstand aggressors and are resistant to bacteria, chlorine, water treatment chemicals, and hard water. | Product failure: Some bathroom parts from Korky have failed after weeks of use, pushing malfunctions and colossal water and sewer bills. |
Overall, Korky is a perfect solution for all types of toilet repairs. However, no product can satisfy all customers, and neither can Korky.
Despite being made in the US, Korky is popular because of its design and production. Unfortunately, many customers have had unpleasant encounters with this product. This brings us back to Fluidmaster vs Korky—will the competitor do a better job?
Fluidmaster: Pros & Cons
Fluidmaster is a recognized and respected toilet repair brand delivering the following benefits to its customers:
| | |
| --- | --- |
| Pros | Cons |
| Complete solution: Fluidmaster's toilet repair kit includes everything you need to keep your toilet working like new. The flush valve, 400A fill valve, Sure-Fit chrome tank lever, three bolts, and gasket are included. | Not compatible with some toilet brands: Kohler and Gerber are among the toilet brands that do not support Fluidmaster toilet parts. |
| Tradition: Fluidmaster has been around for decades and is well-versed in toilet repairs. They have mastered the profession | Not enough bolts: Another objection was that Fluidmaster kits come with just two bolts when most toilets have three. You still have to purchase extra parts even with the all-in-one toilet repair equipment. |
| Targeting specific toilet issues: Whether you need a toilet repair kit or a toilet flush kit, Fluidmaster has what you need. Their Repair Guide will help you determine what is wrong and what kit you need to purchase to fix it. | |
| Reliable: Fluidmaster toilet parts reliably perform as advertised. The vast majority of customers express satisfaction with the product. It has successfully solved their problems. | |
Overall, Fluidmaster makes repairs easy, even if you have limited plumbing experience.
Both toilet repair kits offered by Korky vs Fluidmaster have advantages and disadvantages. However, Fluidmaster has more experience than Korky in manufacturing repair kits, giving it an upper hand. You need to consider your requirements while selecting the best replacement kit.
Fluidmaster vs Korky: Products
Now that we know the benefits and drawbacks of Fluidmaster vs Korky let's examine the different range of kits offered by both brands.
Fluidmaster Products
Fluidmaster provides a wide range of toilet repair kits to help you with your toilet issues. You will have fewer junk parts after you've repaired them with a Fluidmaster kit than you would with a Korky universal kit. The main kits are:
Korky Products
Korky provides toilet repair kits that are simple to set up and use. These kits give you the satisfaction of easy installation and usage. The durable design provides durability. You can also eliminate and refill the toilet at the same time using Korky kits. In addition to being simple to use, you may also make adjustments.
Fluidmaster vs Korky offers a wide range of products. The universal kit both brands provide is an all-in-one solution to all your toilet repair problems.
Fluidmaster vs Korky: Fill Valves
A fill valve controls the water flow between tank refills, making it the most complicated toilet component. Furthermore, you must choose an appropriate fill valve size for your toilet. Fluidmaster vs Korky offer repair kits with fill valves.
Let's compare the fill valves of both.
Fluidmaster Fill Valves
Fluidmaster is the leading preference of expert plumbers in the market. The wide acceptance and approval of Fluidmaster are due to its outstanding features, which are as follows:
The anti-siphon attribute combines a Fluidmaster fill valve to create a smooth water delivery system.
You can adjust fill valves from 9 to 14 inches.
Fluidmaster valves are made from corrosion-resistant materials for a long lifetime.
You can find the Fluidmaster 400a fill valve, refill tube, refill clip, shank lock nut, shank washer, and illustrated instructions in the Fluidmaster repair kit.
The valve operates in a quiet and nearly noiseless fashion.
The water and float levels are adjustable, making your toilet work as if it were new.
Korky Fill Valves
The Korky fill valves are available in various styles, and the one that suits your toilet is likely to be among them. Special features of Korky fill valves include:
You can adjust the Korky Platinum fill valve from 8.5 to 14 inches in height to fit most typical toilets.
Every Korky repair kit includes the necessary hardware for installation.
It functions with all HET toilets.
A sediment filter and servicing and maintenance parts are incorporated into the fill valve assembly.
A toilet fill valve, refill adjuster, refill tube, and metal clip are inside the package, in addition to installation hardware and instructions.
The Korky repair kit instructions are clear and precise. Even a novice can install it without special tools. Fluidmaster vs Korky are both competitive since they share outstanding fill valve features. Hence, it's challenging to choose which will work for you.
Fluidmaster vs Korky: Built Quality
Some corporations use brass-plated bolts to save money, but the plating will eventually peel off, leaving the bolts rusty. Fluidmaster uses solid brass bolts, whereas Korky uses stainless steel. Both are rust-free and long-lasting.
You can choose the stainless Korky bolts or the solid brass Fluidmaster bolts to guarantee your tank and toilet stay clean. Because the Korky kit includes a third bolt, a nut, and a washer, you'll always have spares on hand if you pick one of these repair kits.
Fluidmaster vs Korky: Noise Level
No one desires to spend the whole night listening to the toilet flush, so the noise level is an essential factor when choosing a new valve. Fluidmaster 400A valves are typically quieter than other alternatives. However, other brands design silent valves too.
Fluidmaster vs Korky: Price
You will always consider the cost one of the most significant aspects of purchasing decisions. The Fluidmaster AH400 and Korky 528 toilet valve replacement kits are available for less than $15, but Fluidmaster tends to be more expensive.
Fluidmaster vs Korky: Which Brand Of Toilet Repair Is More Reliable?
Fluidmaster takes the lead in this Fluidmaster vs Korky toilet repair battle. Korky and Fluidmaster produce a variety of toilet products, but Fluidmaster has the edge due to the following reasons:
Fluidmaster parts are of higher quality.
Fluidmaster offers a wide array of toilet parts and kits, allowing for custom toilet repair.
Fluidmaster has more experience than other reputable toilet parts brands.
Fluidmaster is more affordable and not a lot more costly than its competitor.
Fluidmaster provides all-in-one repair kits or customized kits that appear more dependable.
Customers have complained about skyrocketing water bills after installing Korky fill valves, whereas no such complaints are made regarding Fluidmsters' valves.
Fluidmaster seems more dependable whether you buy the all-in-one repair kit or a customized kit.
Wrapping Up
Choosing between Fluidmaster vs Korky toilet valve replacement kits can't be difficult. They provide nearly identical features and cost about the same amount of money. Before you finalize your choice, measure to ensure you get the correct size, then consider how critical a quiet valve is.
If you aren't sure which brand to select, we suggest choosing a Fluidmaster valve. Fluidmaster vs Korky are similar companies, but Fluidmaster has superior features and costs only a little more.
Related Articles
Sprinkler backflow preventer leaking- how to fix?
5 Best sump pumps on the market
How to deodorize sump pump: 5 best ways