6 Best Outdoor Sump Pumps To Buy For Your Home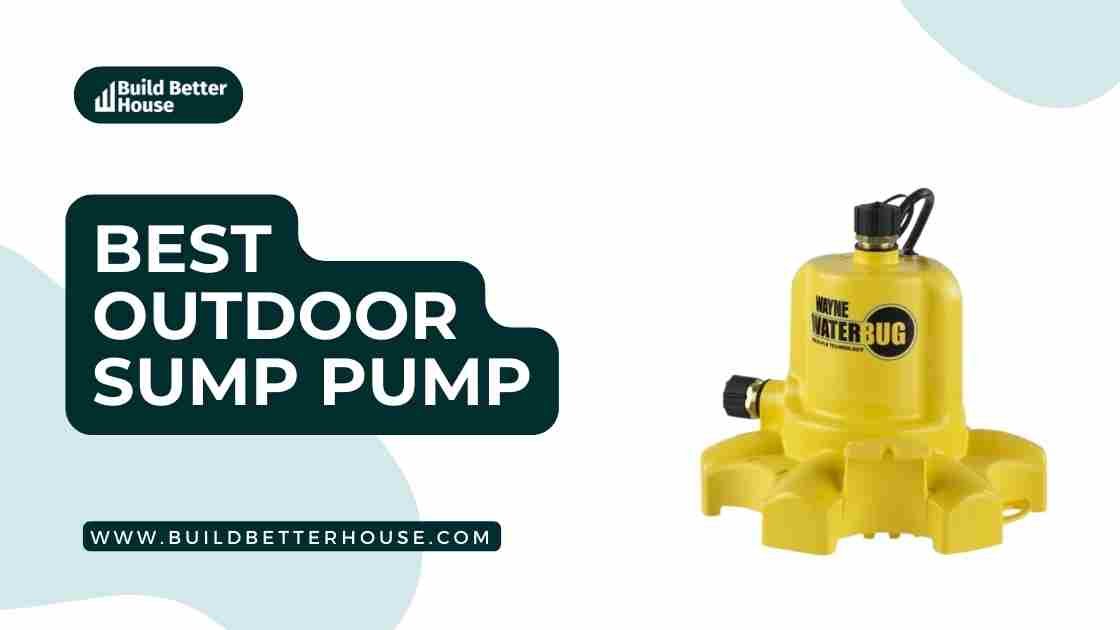 An outdoor sump pump is a reliable and cost-effective way to keep your basement dry and protect your home from flooding. Whether you live in a rainy climate or are in a low-lying area prone to flooding, investing in the best outdoor sump pump can save you from costly damage repairs and keep your home safe.
Outdoor sump pumps come in various sizes and styles to fit your unique needs, from small and portable to large and heavy-duty pumps. When you're preparing to set up a new outdoor sump pump, first determine what kind of pump will be best for your yard, how to install it, and how to address the issue of freezing temperatures.
There are several outdoor sump pumps on the market, but they vary in power and cost, so you should research and read this guide before buying.
Comparison Of Best Outdoor Sump Pumps
| | | | |
| --- | --- | --- | --- |
| MODEL | FEATURES | COST | RATING |
| Superior Pump 91250 | Thermoplastic material, AC power source, 30 gallons per minute (maximum flow rate) | CHECK PRICE | 4.6 / 5 |
| Zoeller M53 Mighty Mate | Engineered thermoplastic base & cast iron switch material, Professional-grade submersible pump, Battery powered source | CHECK PRICE | 4.7 / 5 |
| Zoeller M57 | HAWA material, Ac/dc power source, 43 gallons per minute (maximum flow rate) | CHECK PRICE | 4.6 / 5 |
| Wayne WaterBUG | Thermoplastic material, Corded electric power source, 23 gallons per minute (maximum flow rate) | CHECK PRICE | 4.6 / 5 |
| ECO-FL ECD50V | Cast iron material, Ac/dc power source, Submersible for quiet operation | CHECK PRICE | 4.1 / 5 |
| DEKOPRO Sump Pump | Perfect for keeping basement dry during heavy water flow, Corded electric power source, Multi-outlet sizes | CHECK PRICE | 4.2 / 5 |
6 Best Outdoor Sump Pump Kits
An outdoor sump pump is an excellent addition to your backyard or other property if your yard is flooding or has standing water issues. Here are some great sump pumps to protect your property from future rains.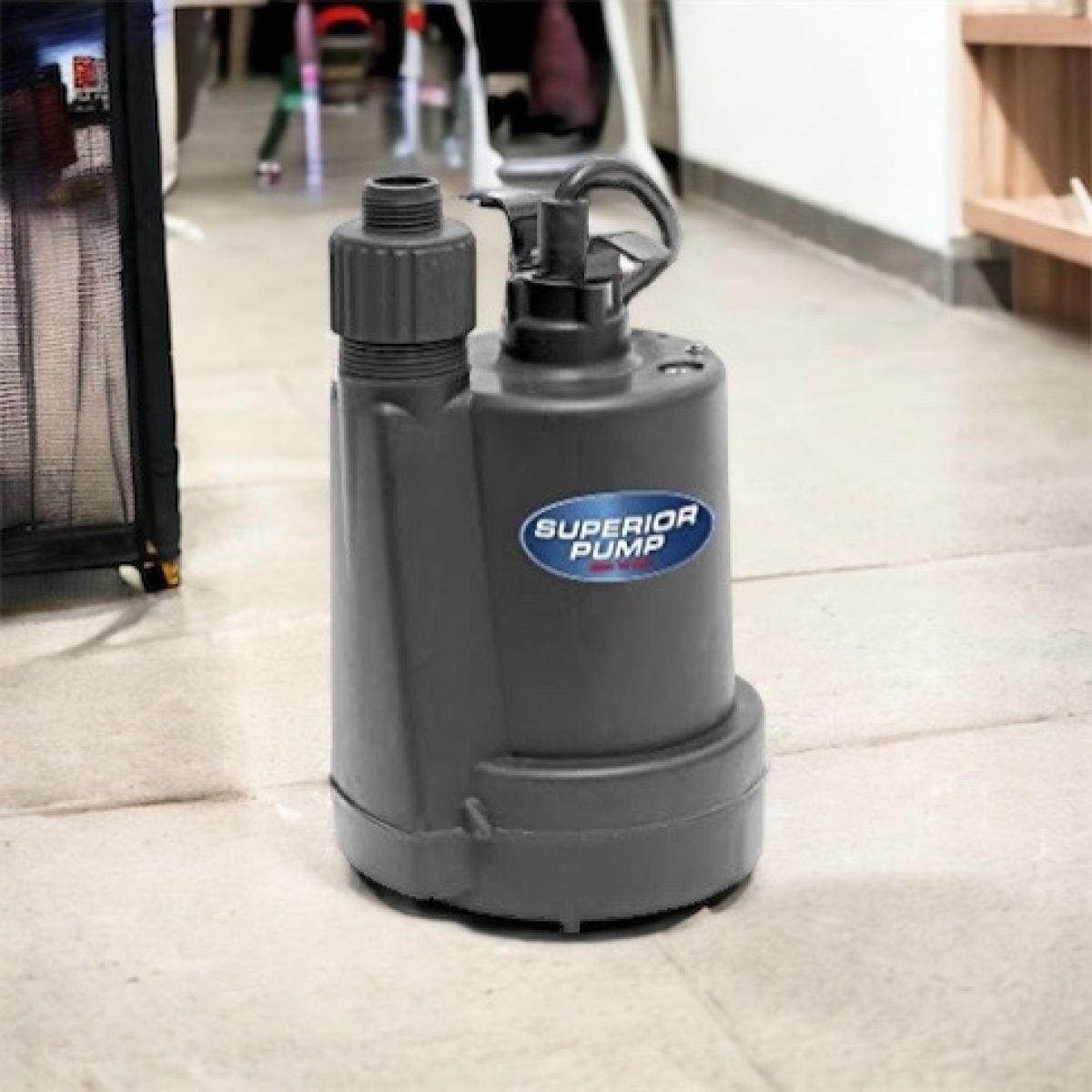 Outdoor sump pumps should be durable and resist the elements, especially extreme cold. The Superior Pump 91250 is my top choice for backyard pumping. The Superior Pump 91250 is a versatile utility pump suitable for everyday activities.
A float switch can convert this tiny pump into a backup sump pump. It's an excellent helper to drain basements and waterfalls.
This pump can lift 1200 to 1800 gallons an hour. The 91250 pump is perfect for numerous applications and requires no critical operation.
Specifications:
Thermoplastic material
AC power source
30 gallons per minute (maximum flow rate)
Removable suction screen & handles 1/8 inch solids
10′ cord length
100% factory tested
Positive
Works nicely in hot summers and cold winters
Thermoplastic design is rugged sufficiently for the outdoors
Great pump at a great price
Perfect little pump
Easy to set up
Negatives
Lower flow rate than other pumps
You can buy the Superior outdoor sump pump at Amazon.

The Zoeller M53 submersible sump pump is built from cast iron steel and does not rust or corrode. This sump pump works well on large yards with flooding issues.
The Zoeller M53 sump pump is submersible with a 1/3 horsepower motor, a 2,580 gallon-per-hour water flow rate, and a 3-year warranty beginning at the manufacturing date. This best outdoor sump pump is renowned for its longevity, durability, and performance.
The heat-dissipating cast iron body with an epoxy coating provides the most pumping power in severe conditions. The sealed, oil-filled motor and non-clogging vortex impeller are hermetically sealed to make a long-lasting, hassle-free product.
Specifications:
Engineered thermoplastic base & cast iron switch material
Professional-grade submersible pump
Battery powered source
Positive
Pumps large amounts easily
Powerful and well constructed
Easy to install
Durable
Negatives
Air holes can get blocked, so you'll have to drill a weep hole
Vibrations can be loud
You can buy the Zoeller M53 outdoor sump pump at Amazon.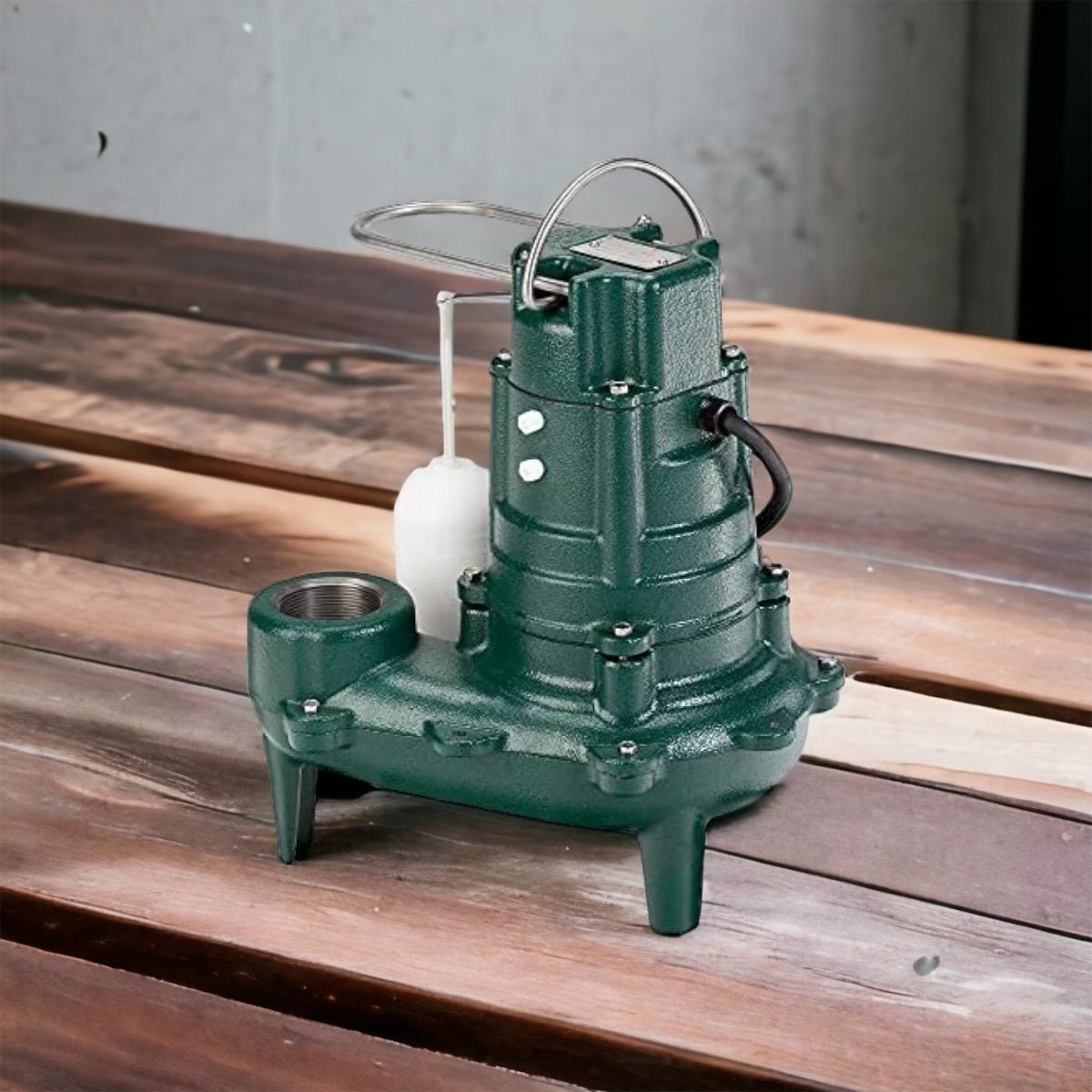 The M57 Zoeller sump pump is ideal for ponds, lakes, and areas subject to heavy seasonal flooding because of its powerful motor.
The Zoeller M57 submersible sump pump has a 1/3 horsepower motor and a 2,580-gallon- per-hour maximum water flow rate. It has the same dark green cast iron shell as other Zoeller pumps.
The M57 and the M53 are submersible sump pumps, but their external and internal structures differ, leading to extra durability and longevity performance.
The impeller of the M57 is longer than the M53, which leads me to expect that the M57 will last between 8-16 years.
Specifications:
HAWA material
Ac/dc power source
43 gallons per minute (maximum flow rate)
An automatic model with an integral float switch
100% factory tested
Positive
Well-constructed and powerful
Easy to install and quiet
Slightest chance of pump failure
High-quality pump
Pump with authority
Negatives
The switch can fail if left on for long periods

The Wayne WaterBUG is a low-cost solution, ideal for homeowners who need a pump that will last for many years. You can drain your yard or mobile home using this pump.
Since this pump sits low to the ground, it has no issues with cold or hot weather. It is a manual utility pump that pumps water away from window wells and other flood-prone locations.
The WaterBug is a submersible water removal pump that works as an electric pump. The 1/6HP motor produces up to 1,350 gallons per hour.
This pump includes a pair of brass 3/4-inch garden hose-sized discharge nozzles. It does not have an auto on/off function.
Specifications:
Thermoplastic material
Corded electric power source
23 gallons per minute (maximum flow rate)
Multi-Flo technology
Positive
Can run for long periods without overheating
Excellent multi-purpose pump
Efficient & easy to use
Great little machine
Negatives
It does not turn off automatically
It has a low-quality body
You can buy the Wayne WaterBUG outdoor sump pump at Amazon.

The ECO-FLO ECD50V is a good option if you want to pump water or require a head height of over 10 feet.
This impeller-equipped motor can pump up to 4,400 gallons of water per hour and can handle solids up to 3/4 inches because of its 1/2 HP motor.
It is designed to operate underwater and is activated by an external float switch.
Specifications:
Cast iron material
Ac/dc power source
Submersible for quiet operation
Positive
Runs very quiet
Easy to install
A top-rated pedestal pump
Super powerful pump
Great reasonable price
Negatives
The motor can overheat if turned on and off simultaneously
You can buy the ECO-FLO ECD50V outdoor sump pump at Amazon.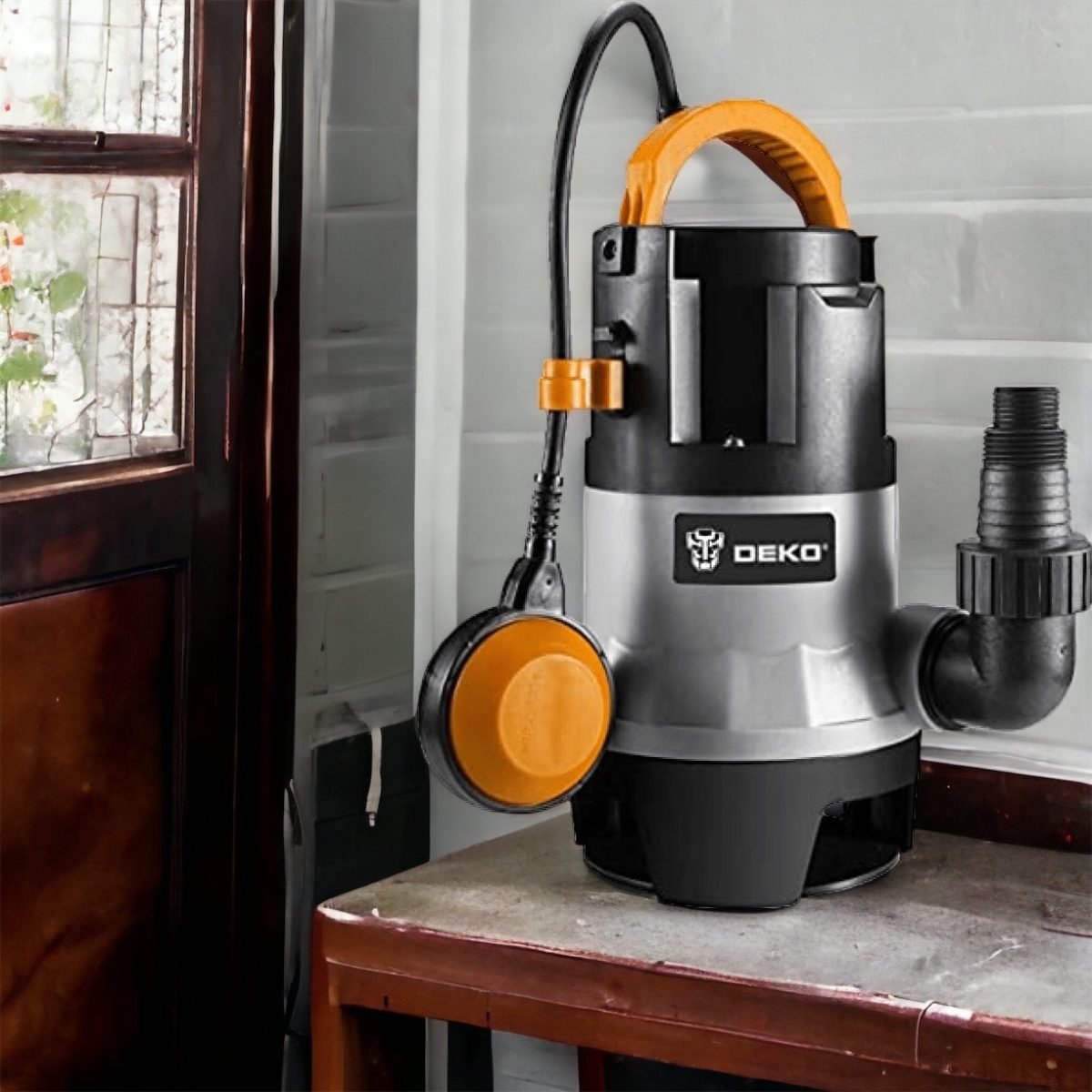 The DEKO sump pump has a powerful 1HP motor that can move up to 3302 gallons of water each hour.
This pump is mainly used for irrigation purposes. It can remove clean and contaminated water with solids measuring up to one inch in diameter.
Although it is mainly made of plastic, which might not be ideal, this material makes the pump much more lightweight.
An integrated handle is embedded into the casing to make it more convenient to carry.
Specifications:
Perfect for keeping the basement dry during heavy water flow
Corded electric power source
Multi-outlet sizes
Plastic material
Positive
Suitable for use in the courtyard, pond, garden, and swimming pool
Great little pump for the money
Easy to use and carry
Amazing water pump
Durable
You can buy the DEKOPRO outdoor sump pump at Amazon.
Why Do You Need The Best Outdoor Sump Pump?
An outdoor sump pump will be required if the soil drains poorly or the water table is near the soil surface. When it comes to small yards, dry wells are frequently ineffective because they can't hold enough water from the runoff.
On the other hand, a dry well that sits a little farther away from the house and utilizes a sump pump would be a better option.
In either situation, dry wells alone cannot put water into the ground safely and quickly enough to make room for the next downpour. Therefore you need to buy the best outdoor sump pump.
How Does An Outdoor Sump Pump Work?
Installing an external sump pump to your drainage system is an excellent finish to your drain system. You begin by installing perimeter drain pipes, a French drain, or other yard drainage solutions. Once they are in position, you connect your drainage system to your sump pump in the backyard.
A submersible pump is buried in the soil of a sump pit and pumps water out when the water level rises. A discharge line expels water due to the pump pushing it up and out. The pump is powered by electricity and may require a backup battery in an emergency.
The amount of water and setup will determine whether you drain it into a storm sewer or a safer portion of your yard.
How To Install The Best Outdoor Sump Pump?
Most outdoor sump pumps drain into the road or attach to the sewer line. I have put together step-by-step instructions to help install your basin and in-ground sump pump and set up the appropriate drainage lines!
1. Find the low spot
Begin by finding the low spot in the yard where groundwater is pooling. This is where you will want to install your exterior sump pump basin.
2. Find the sewer line
Next, locate the sewer line to install the check valve and discharge pipe.
3. Dig a basin pit
Dig and establish a basin; set it below the water table.
4. Run electrical connections
After you dig the pit and set the basin in position, install the electrical connection and battery backup.
5. Install the sump pump
Next, install the sump pump at the base of the basin.
6. Attach the drainage
Attach the drain lines and check the valve after the pump is positioned.
7. Test system
Once everything is in a place full of a few buckets of water, check the pump system to simulate a rainstorm and ensure everything is in working order before the next heavy rain.
These steps will help you install the best outdoor sump pump easily.
Five Ways To Prevent Outdoor Sump Pump Freezing
Your sump pump may freeze if the temperature drops below freezing. Outdoor pumps can be tricky, but frozen water may cause significant issues! It is critical to take measures to safeguard your pump for cold weather.
Here are some suggestions for preventing permanent pump damage and drainage issues:
1. Cover the basin
It is simple to keep your pump from freezing or being damaged by covering the basin with a sheet. Even a light sheet can make a big difference if you have a basin cover. This method is not difficult to implement. Clearing the snow and ice off every few hours might be difficult if you have a basin cover.
2. Drain standing water
In cold weather, your shallow pit's standing water can freeze, jeopardizing your pump. Extract as much standing water as possible before winter to reduce the risk. Your pump should take care of most of the work, but you can always empty the basin or use a shop vacuum on your dry well if you'd like.
3. Bring the pump inside
If you anticipate a winter storm, move your sprinkler system's pump into your garage to keep it safe from ice damage and water. Even if the weather is below freezing, water near the surface freezes all the time, so you don't have to stress about draining your yard. Keep the unit indoors to protect it from ice damage and prevent water leakage into the electrical system.
4. Remove ice
Keep ice away from the pump to ensure your pump is warm. You can use a little shovel or your hands to clear ice and snow from the pump basin. Remember, if your pump gets too cold, it will not function once the snow melts!
5. Check the drains
Your pump won't be able to push water if your drains and sewer lines are frozen shut. Pour hot water down the drains to ensure they are not frozen shut. If the pipe cracks or floods because of a frozen drain, remove the ice manually before it's too late.
FAQs (Frequently Asked Questions) On Best Outdoor Sump Pump:
Can sump pump be installed outside?
External sump pumps remove any surplus rainwater collected in your yard and direct it to a place far from your home's foundation. Exterior sump pumps can achieve this task in two manners. They can assemble surplus rainfall in a single region and discharge that liquid into a storm sewer system.
How much does an exterior sump pump cost?
An exterior sump pump has an average cost of $250 – $375. In addition, the highest cost is $425 – $625, and the lowest price is $140 – $200.
How does an outdoor sump work?
After the rain, the external sump pump transfers the water away from the area suffering from flooding. Generally speaking, surplus water is transferred to the roadside, allowing it to run off into the storm channel system. Alternatively, the water can be pumped to a wetland or low-lying region.
How deep is an outdoor sump pump?
An outdoor sump pump is 30 inches deep and 18 to 24 inches across.
Conclusion: Best Outdoor Sump Pump
The benefits of an outdoor sump pump system are nearly limitless. You will benefit from this unique system for many years. It ranges from protecting your property in flooding to ensuring the pump does not freeze in the winter.
The primary benefit of an outdoor sump pump is its ability to collect and evacuate water quickly and efficiently. The sump pump also effectively manages the needs of your drainage system by keeping the water table above soil level.
An outdoor sump pump collects and drains water from a pool of soil around your house or home's foundation. This water can then be taken away from the area and discarded safely.
I hope this article on outdoor sump pumps sounds helpful!