Ultimate Zoeller M53 vs M57 Comparison: Which One Is Right For You?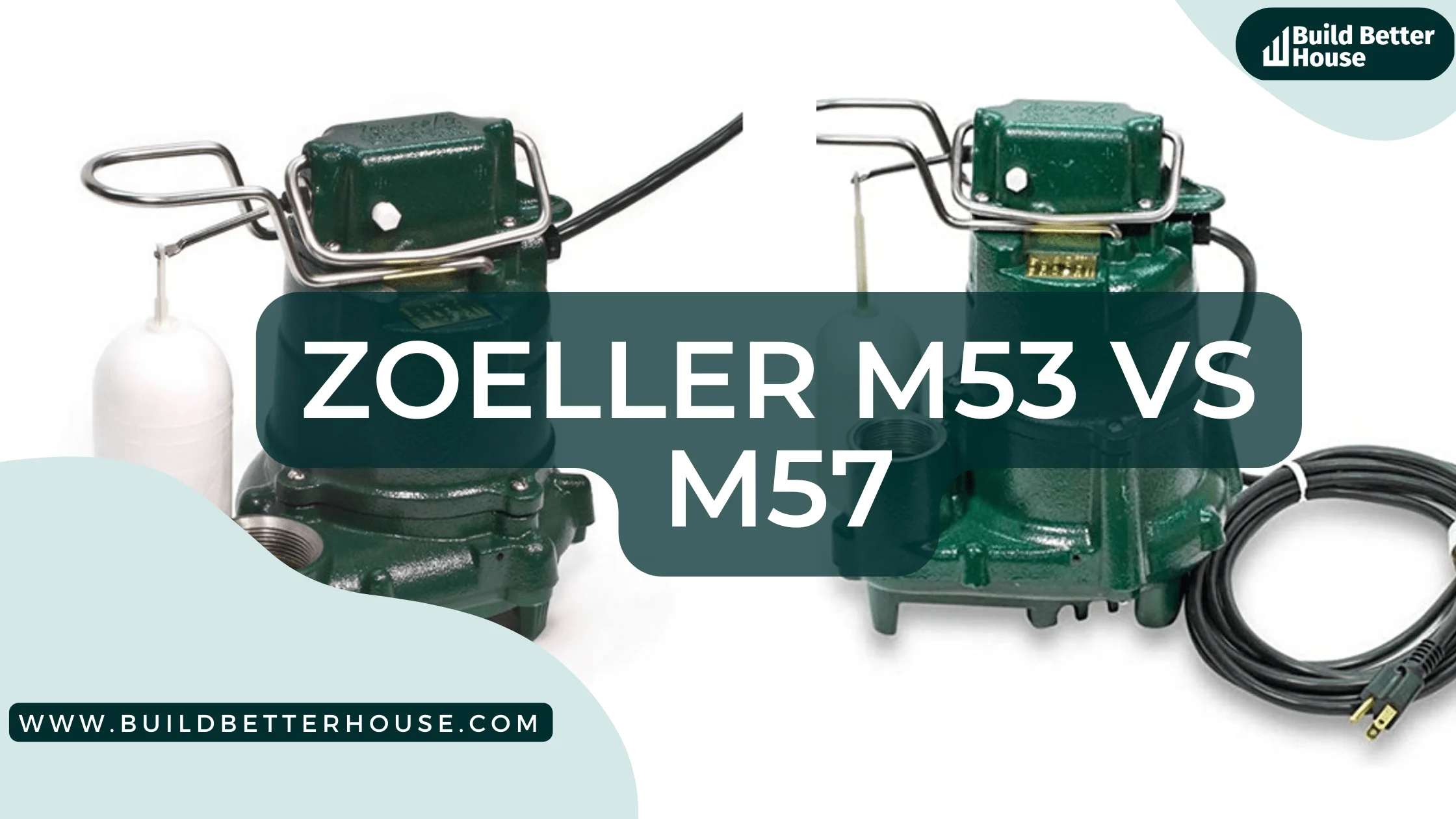 Are you looking for a reliable, powerful sump pump to dry your basement? Then you need to look at the Zoeller models – Zoeller M53 vs M57; both pumps are widely considered the best in the market, and for a good reason.
The M53 is a high-efficiency pump with a powerful motor and a low amp draw, making it perfect for households with limited power. The M57, on the other hand, is the ideal choice for larger homes. It has a dual float switch and a durable cast iron switch case, making it perfect for those who need a more heavy-duty sump pump.
Both Zoeller M53 vs M57 is built to last, with a corrosion-resistant finish and a high-grade mechanical seal. But which one is the best for you?
In this article, I'll compare Zoeller M53 vs M57 and their key differences, features, pros, and cons to help you choose the best.
A Quick Comparison Between M57 vs M53
| | | |
| --- | --- | --- |
| Key Features | Zoeller M57 | Zoeller M53 |
| Pumping Power | M57 pumps up to 2,680 gallons per hour | M53 pumps up to 2,680 gallons per hour |
| HP motor | M57 has a 1/3 HP motor | M53 has a 1/3 HP motor |
| Durability | M57 is more durable than M53 | M53 is less durable than M57 |
| Portability | The M57 is more stationary than the M53. | M53 is more portable than M57 |
| Weight | The weight of the M57 is 27 pounds. | The M53 weighs 21 pounds. |
| Protection | A solid cast iron base protects M57 | A thermoplastic base protects M53 |
| Warranty | M57 comes with a 3-year warranty from the manufacturing date. | M53 comes with a 3-year warranty from the manufacturing date |
| Cost | The M57 is more costly than the M53, costing around $251. | M53 is a moderately priced pump, costing around $221. |
| Rating | 4.6 | 4.7 |
| | Check out the product on Amazon | Check out the product on Amazon |
Zoeller M53 vs M57: Overall Ratings
Zoeller M53 vs M57: Overview Zoeller M53
The M53 Mighty Mate water pump is popular among plumbers, professional basement waterproofers, and DIY enthusiasts due to its strong 1/3 hp pump and cast iron body activated by a float. To better understand the Zoeller M53 model, let's review its overview.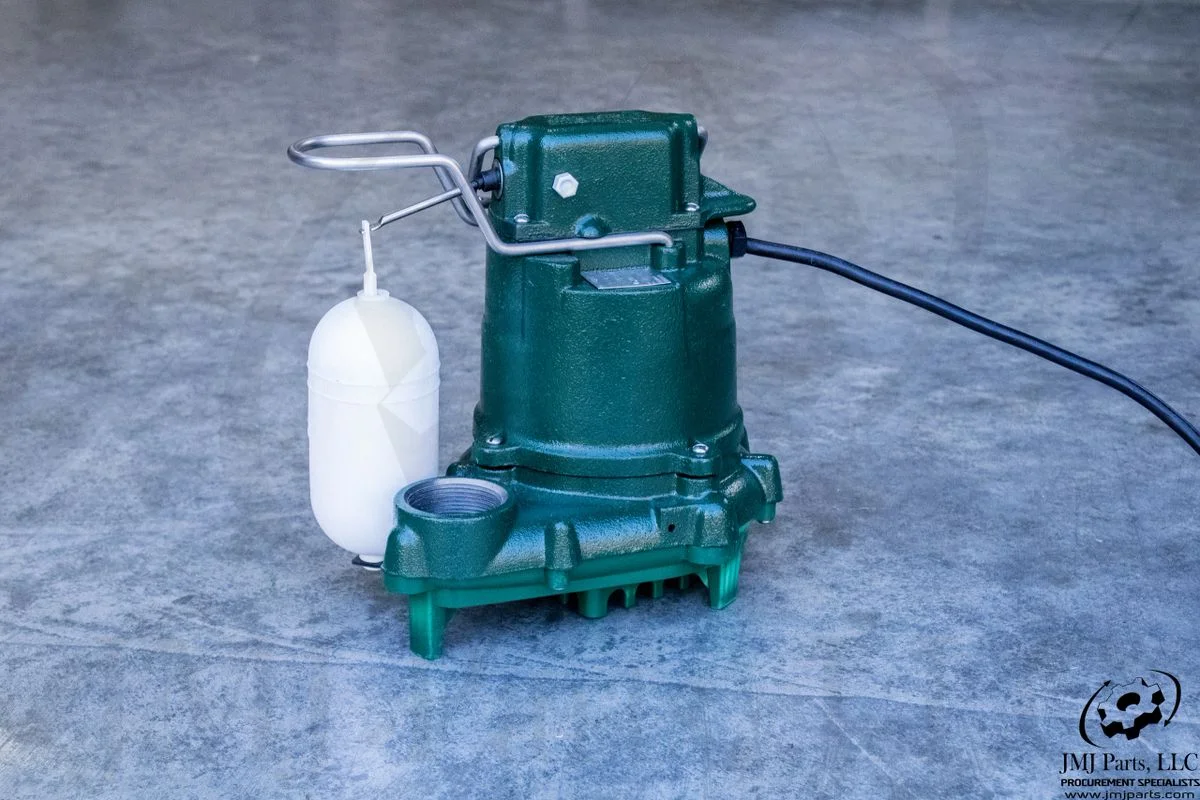 Zoeller M53 features
Water-resistant coding ensures safe functioning.
A ceramic and carbon shaft seal protects heat and oil connections.
Heavy for operation stability against vibration.
The pump's flexible wire allows for simple connecting to a nearby power outlet.
Zoeller M53 sump pump is an automatic submersible sump pump designed for sewage (effluent) and sump operations in sump pits with a minimum diameter of 15 inches. It is 7.8 inches tall, 10.5 inches wide, and 10.5 inches deep, with a single-phase 1/3 HP motor and a maximum flow rate of 2,680 gallons per hour.
This product comes with a three-year warranty from the date of manufacture. It has a vertical pump switch, draws between 4.8 and 9.7 amps, and operates on 115 volts.
Unfortunately, there is no Zoeller sump pump battery backup available. The pump's maximum flow rate is 2,680 GPH; however, at 10 feet, it lowers to 2,040 GPH.
The Zoeller M53 is a low-cost pump by Zoeller Pumps with a simpler construction than other pumps on the market. The entire structure of the motor is made of cast iron, which is covered with cured epoxy for corrosion resistance. The remaining components, such as the handle, arm, and so on, are corrosion-resistant stainless steel.
Positive
There is no hammering sound
Made of strong cast iron
Simple to use and install Automatic activation
Powerful 1/3 HP motor
Negatives
The submersible design is tough to clean
The float switch might become caught and cause the motor to overheat
1/3 HP is insufficient to move water over great distances
Zoeller M53 vs M57:Zoeller M57 overview
Because of its long lifespan and capacity to manage contaminated or debris-filled water, the M57 will be a better choice. However, there are many more factors to consider before making a purchase, so let's have a look at the Zoeller M57 overview for a better understanding of the model: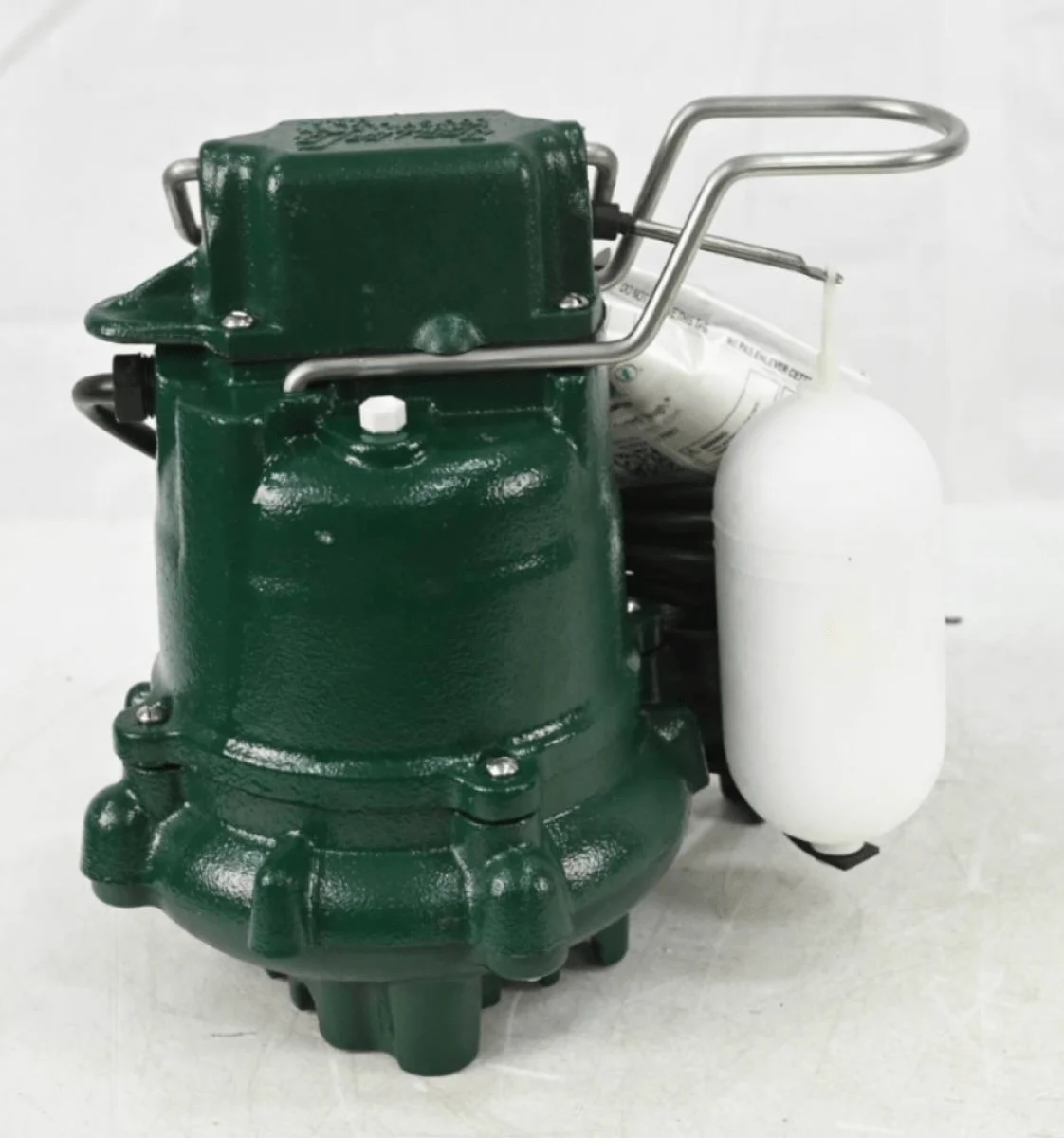 Zoeller M57 features
1/3 horsepower motor
Manufacturer's warranty of 3 years
The maximum flow rate of 2,680 GPH
19.25-foot maximum head height
Super efficient pump
Three-year warranty
With a three-year warranty but a ten-year average lifespan, this cast iron 21 lb pump has been a tremendous hit for years. As a solid bet, it provides simple installation and compatibility with backup batteries/alarms.
With a ⅓ HP motor, 115/230V power, and a flow rate of 43 GPM, this pump is powerful while remaining quiet and vibration-free. It also has a float-triggered switch for convenience, a 12″NP discharge, and can pass 2″ solid material, while its submersion is proven by its rust-resistant cast iron shell.
However, for someone willing to spend the time and care into this device, it will undoubtedly react with longevity and, given its inexpensive pricing on Amazon, amazing value for money.
Positive
Designed to require minimum upkeep (no sheet metal or screens)
The inner motor housing is watertight
With a good cover, it's practically hard to hear
Most household basins are emptied in less than 10 seconds
Negatives
1/3 HP may not be enough power for high flood zones or tall heads
Look out for "float stick" and extended run time
Zoeller M53 vs M57: Major differences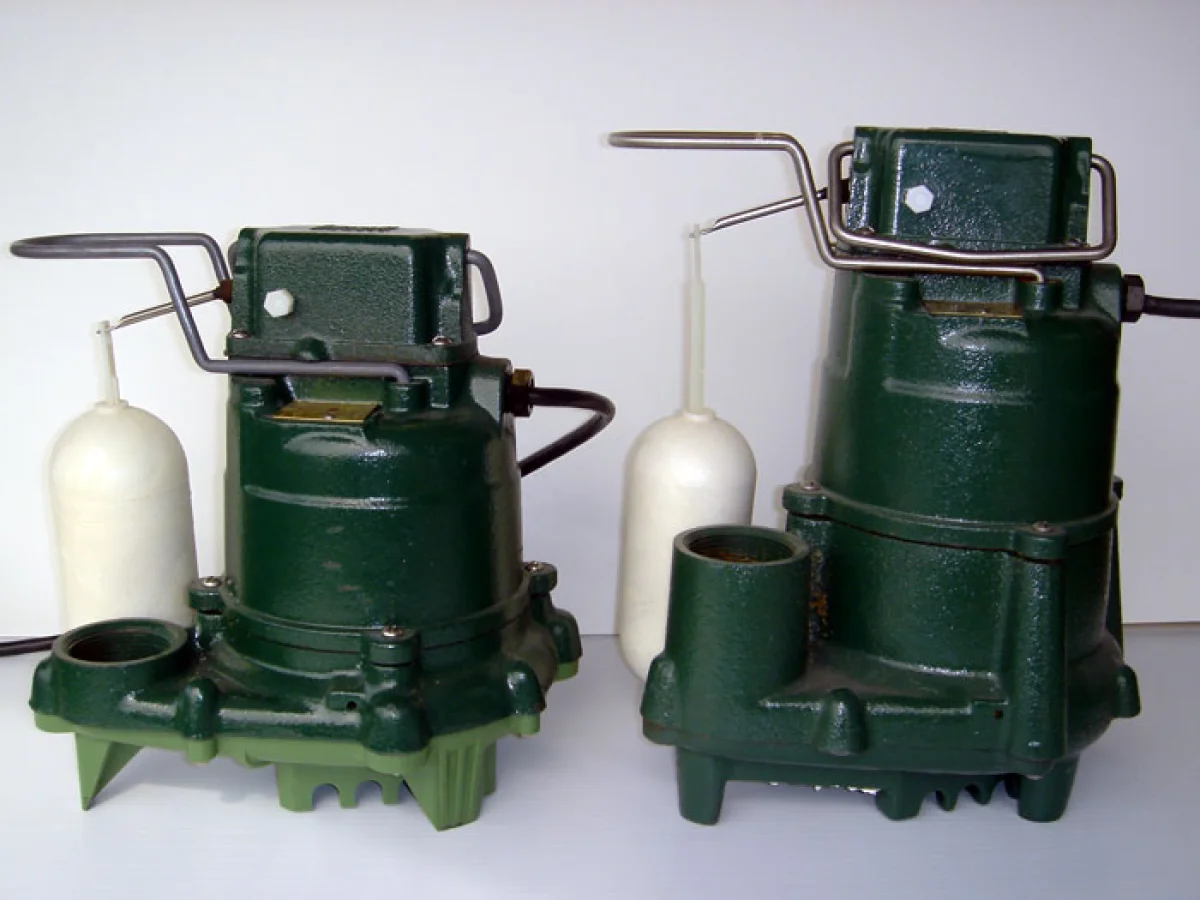 Both Zoeller M53 vs M57 are exceptional in their work and give efficiency with high-quality features, which I will cover further in this article. However, a few significant differences exist when deciding whether to purchase the M53 or the M57. These are:
Core material
The first distinction is in the material utilized for the base. The base of the M53 is composed of thermoplastic. The base of the M57 is built of cast iron. This difference is essential because the weight is increased in M57 by six pounds. Those six pounds maintain the M57 in the basin more stable under intense continuous pumping.
Material of the impeller
The material used for the impeller is the second distinction between Zoeller M53 vs M57. The designed plastic M53 impeller has a metal insert. The M57 impeller is constructed of cast iron. A cast iron impeller will outlast a plastic-designed impeller.
Even though the impeller is a vortex design that can withstand small pebbles, little pebbles will eat the plastic impeller over time. Though one might expect the cast iron impeller to rust over time, some plumbers have reported that the cast iron does not rust after ten years. Water enhances the cast iron impeller's rust resistance.
Weight
The third distinction is one of weight. The M57 is six pounds or three kilos heavier than the M53. The greater weight is due to the cast iron base and shaft. Because a sump pump travels in the basin during intense pumping, extra weight is always good. Although a switch guard covers the float, limiting the movement of the pump in the pit is beneficial.
Cost
The fourth distinction is the cost. The M57 costs about $20 more than the M53. The extra cast iron pieces and weight are worth the additional $20. The M53 is a reliable sump pump for those on a small budget. However, if you can invest $20 more, I suggest going with M57.
Sales volume
The fifth distinction is the volume sold. More M53 sump pumps are being sold right now. The high sales volume is because consumers were unaware of the Mighty Mate Zoeller M57 before the advent of the internet.
Plumbers have been installing the M53 for years because it is more reliable than its competitors. Because of the pricing difference, plumbers choose the M53 over the M57.
However, as internet usage grows, buyers realize that Zoeller produces more than the Mighty Mate M53. Customers are willing to spend an extra $20 because they place a high value on purchasing an excellent sump pump.
Zoeller M53 vs M57: Float Switch
Both Zoeller M53 vs M57 models feature the same mechanical float switch with two poles, meaning that the float rod is connected to both the top and bottom of the pump, allowing it to move up and down with the water level.
Unlike some competing brands, which do not attach the float rod to the pump bottom, these models use a solid, buoyant polypropylene float that cannot sink even if it gets punctured. Additionally, a rust-proof stainless steel guard is used to prevent pit hang-up.
Zoeller M53 vs M57: Motor
Zoeller's M53 vs M57 pumps have an oil-filled, hermetically-sealed motor and automatic reset thermal overload protection feature.
The motor has a third horsepower and can operate at 115V or 230V. Its speed is limited to a low 1550 RPM to minimize the wear and tear on the motor.
Zoeller designs its pumps to run at 80% capacity to reduce wear and tear further. Unlike some competitors who use engineered plastic, the motor shaft has robust AISI 1215 cold-roll steel.
The motor cord is also listed with three wires and a three-prong plug. It can operate at a maximum temperature of 130 degrees Fahrenheit or 54 degrees Celsius. Finally, the auto-reset thermal overload protection system will shut off the pump in case of overheating.
Zoeller M53 vs M57: Warranty
The warranty period for M53 has been extended to three years, an improvement from the previous one-year warranty. M57 also offers a three-year warranty starting from the manufacturing date. This warranty covers typical issues such as pump malfunctioning, overheating, leakage, and failure to start or stop.
Zoeller M53 vs M57: Customer Reviews
Customer reviews can deliver valuable insights into the performance and reliability of the Zoeller M53 vs M57 sump pumps.
Zoeller M53 reviews
Many customers praise the Zoeller M53 for its durability and reliability, with some reporting that it has been in use for many years without any issues.
Several customers also noted that the M53 is relatively quiet compared to other sump pumps they have used.

Zoeller M57 reviews
Customers generally have positive things to say about the Zoeller M57, with many praising its high pumping capacity and long life.

Several customers noted that the M57 is very effective at quickly removing large volumes of water, which can be especially beneficial in areas prone to heavy flooding.

Overall, the Zoeller M53 vs M57 has received positive customer reviews, with many noting their durability, reliability, and effectiveness at removing water.
However, the M57 is generally more powerful and better suited for areas with more severe flooding, while the M53 may be a better choice for those who value quiet operation and a lower price point.
Zoeller M53 vs M57: How to choose the right sump pump?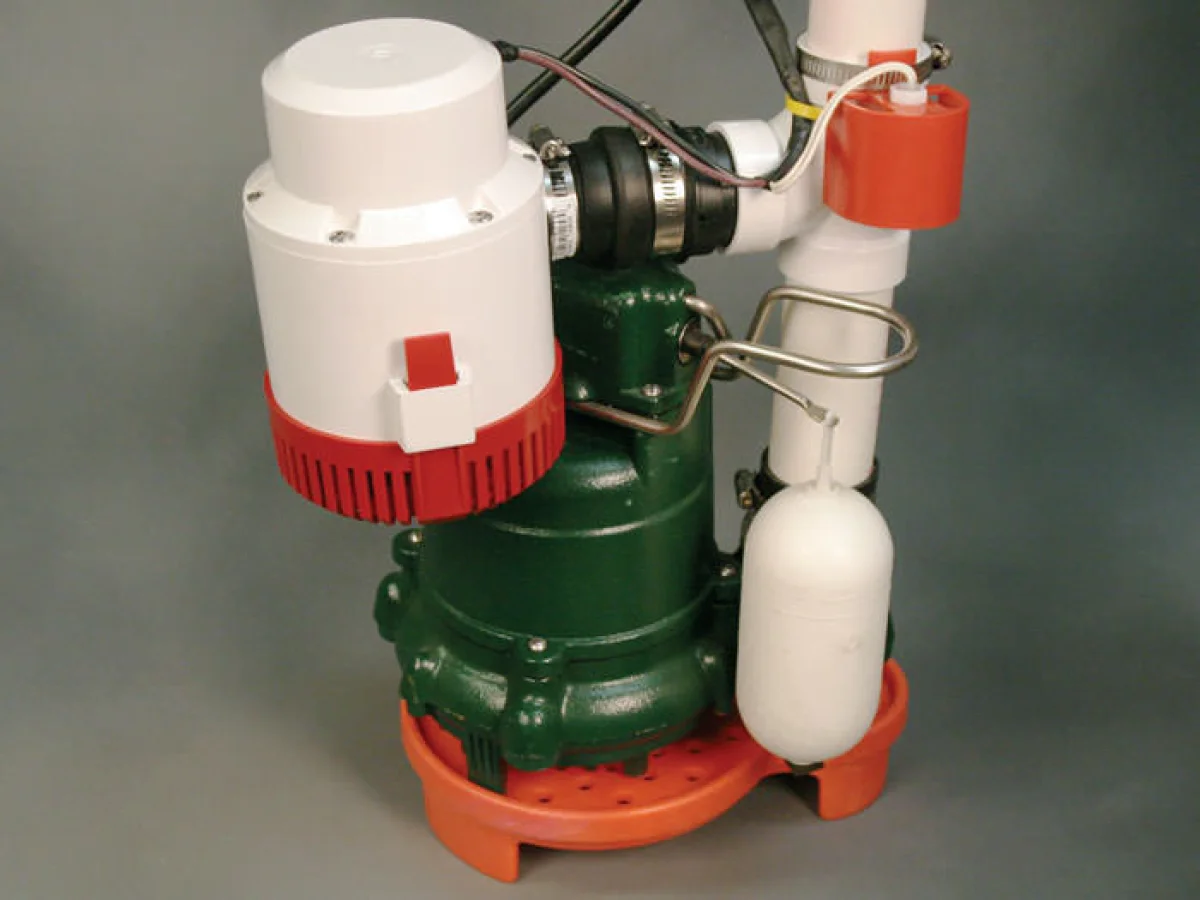 After focusing your search on the Mighty Mate 50 series, you are presented with a difficult choice between these two superb machines. These two mid-range pumps stand out as excellent choices for the average family pump, with similar but superior technical features, only falling short in the float switch and lower flow rate than other pumps.
The M50 series of cellar pumps offer excellent debris management, a robust cast iron casing, and impressive specifications, making it a reliable and durable option. When comparing these pumps with competitors, three main factors need consideration – weight, durability, and price.
Although heavier pumps like the M57 tend to be more expensive, they offer greater longevity, whereas those on a tighter budget can go for the M53, which provides similar features at a lower cost.
Wrapping Up
After having a detailed discussion on Zoeller M53 vs M57, where both are great sump pump options, in this case, the extra cash for the M57 goes a long way, and even if it's less well-known than the M53, the M57 simply offers a household a little bit more value. However, you can choose which one to use by evaluating your requirements.
FAQs
What is the difference between Zoeller M53 and M57?
The main difference between Zoeller M53 vs M57 is their pumping capacity. The Zoeller M53 has a maximum pumping capacity of 43 gallons per minute (GPM) and a maximum head of 19.25 feet. 
In contrast, the Zoeller M57 has a maximum pumping capacity of 57 GPM and a maximum head of 19.25 feet. The M57 is, therefore, more powerful than the M53.
Which one is better, Zoeller M53 or M57?
The answer depends on your specific needs. If you have a smaller space and don't need a lot of pumping power, the Zoeller M53 may be sufficient. However, if you have a larger area or anticipate heavy flooding, the Zoeller M57 may be a better option due to its higher pumping capacity. 
What is the price difference between Zoeller M53 and M57?
The price difference between Zoeller M53 vs M57 changes depending on the retailer and location, but generally, the M57 is slightly more expensive than the M53 due to its higher pumping capacity.
What are the similarities between Zoeller M53 and M57?
Besides their pumping capacities, the Zoeller M53 vs M57 is similar in most respects. Both pumps have cast iron housing, a non-clogging vortex impeller, and a float-operated, submersible (waterproof) motor. They are also made in the USA and have a three-year warranty.