Top 5 Sump Pump Generators In 2023 [Tested & Reviewed]
Power loss is one of the common reasons for sump pump failure. Massive power outages can expect for households, primarily in flood-prone areas. Getting one of the best sump pump generators listed below is a fantastic way to avoid these situations.
When there is a power outage, the sump pump's generator powers the pump; as a result, after a rainy night combined with a power loss, you will not find a pool of water in your basement. Understanding what you're looking for before starting your search is essential. Take note that a sump pump usually requires an average surge power of 2000 watts to start up.
Fortunately, this guide will assist you in picking the best sump pump generators, depending on your power usage, affordability, functionality, accessibility, lifespan, efficiency, and portability.
Comparison Of Best Sump Pump Generators
| | | | |
| --- | --- | --- | --- |
| MODEL | FEATURES | COST | RATING |
| Westinghouse WGen7500 | Gasoline fuel type, Gas powered source, Includes generator. | CHECK PRICE | 4.6 / 5 |
| WEN DF475T | Includes Dual-Fuel Generator, Dual fuel power source, 4750 watts | CHECK PRICE | 4.5 / 5 |
| SPG7593E | Gasoline fuel type, Includes generator, Gas powered source. | CHECK PRICE | 4.4 / 5 |
| Durostar DS4000S | Gasoline fuel type, Gas powered source, Includes generator. | CHECK PRICE | 4.6 / 5 |
| BILT HARD 4000 Watt | Gasoline fuel type, Gas powered source, Includes generator | CHECK PRICE | 4.6 / 5 |
Top 5 Sump Pump Generators
Here are our top recommendations for sump pump generators if you were wondering which brand or type of generators to buy.
Westinghouse WGen7500 Portable Sump Pump Generators
The Westinghouse WGen7500 Portable Generator is the first in our lineup, and it is designed to withstand the challenges of construction sites, agricultural applications, and industrial applications.
The generator has a peak output of 9500 watts to keep your basement dry and an efficient, 4-stroke solid 420cc OHV engine. The engine has a fully automated low oil cutoff and a digital hour meter for easy maintenance and tracking of fuel consumption.
It offers a 6.6-gallon fuel tank that enables 11 hours of run time on a single fill-up, allowing you to oversee any situation effortlessly. It also features an adequate fuel gauge that allows you to keep track of the gasoline amount in your pump's tank.
The cast iron and high-quality polymers used in the body make it strong enough to withstand continuous heavy-duty use while remaining lightweight for compactness.
Further, unlike most generators, the Westinghouse WGen7500 comes with a remote start key fob that allows you to start and control the pump whenever you want to. Another remarkable feature is the maintenance-free sealed battery, which enables quick and easy maintenance.
Moreover, it has two Ground Fault circuits for your safety in an electrical disaster.
These sump pump generators come with a three-year limited warranty and an instruction manual for your guidance.
Pros
Large fuel tank to ensure fuel economy while running for an extended time.
The automatic low oil shutdown protects your generator from overheating.
Built-in gas indicator for convenient monitoring of tank fuel level.
It is protected from damage and accidents by a cast iron body.
WEN DF475T Portable Sump Pump Generators
The WEN DF475T Sump Pump Generators are essential for your house. It's useful in emergencies and construction sites where you need power in just one touch.
This generator has a powerful start-up function that can function in seconds. You can swap propane and gasoline with a simple dial switch to power your home.
It's the best choice, with a powerful 240 volts and 224cc engine to handle even the most extensive drain lines. The 4-gallon tank fits atop the DF475T, delivering enough power for up to 11 hours while keeping your basement dry.
These sump pump generators also feature two 12-volt DC outlets and two 120V GFCI outlets, one of which is a cigarette lighter outlet and the other a 120V twist lock. You can rapidly connect to an optional extension cable using the 12V DC cigarette lighter-style jack, giving the WEN DF475T great flexibility.
Its tiny design makes it portable enough to mount to the back of your car or truck and carry whenever you need it. It is lightweight ( only 42 pounds) and has handles for quick and easy travel purposes.
The system also comes with a two-year warranty.
Pros
The power output of up to 240v.
The generator is gasoline-powered and can run on propane.
The 4 gallons of fuel provide power for up to 11 hours, making it durable.
Portable and simple to transport.
It is simple to start whenever you need power.
Cons
The portable device lacks safe lifting points and can break down if not handled carefully.
SPG7593E Portable Gas Sump Pump Generators
The ultra-powerful SPG7593E sump pump generators from Simpson are the third on our list.
This machine is simple to set up and comes with a long-lasting 420cc electric-start engine and an unprecedented and adjustable control panel that simplifies operation.
The portable generator is ideal for partial or continuous use and offers a maximum on-demand capacity of 7500 watts. It has a 2-hour automatic transfer switch and a low oil shutdown to ensure dependable functioning.
Unlike other generic brands, these sump pump generators operate on natural gas, LP, or gasoline, with an 8-hour runtime on one tank. It can power multiple sump pumps.
The 15 Amp output will enable you to operate a wide range of electrical appliances. It also has a voltage selector switch that allows you to choose between 120-Volt and 240-Volt input. However, It uses only one outlet simultaneously.
The Simpson sump pump generators are made to last, with a heavy-duty steel base that keeps them safe and sturdy enough to survive for years.
The control panel allows quick access to numerous settings and LED indicators for your convenience. Moreover, the generator is protected from physical danger while in use by a roll cage structure.
And, because of its durable wheel system for simple transportation, it's accessible whenever and wherever you need it.
The control panel provides easy access to multiple settings and LED indicators for your convenience. A roll cage structure protects the generator from physical damage while in service.
Pros
Easily accessible control panel
Heavy-duty steel frame.
Can run on either gas or electricity
The generator can use for a variety of purposes.
Cons
Need to invest in sound deflectors to reduce the noise.
Durostar DS4000S Portable Sump Pump Generators
DuroStar's DS4000S portable sump pump generators are another excellent alternative for anyone searching for a dependable backup generator for sump pumps and other household essentials. This unit can manage more than one appliance.
It is backed by a 208cc OHV engine that produces 4,000 peak watts and 3,300 operational watts. The machine has an automated low oil shutoff mechanism that allows you to travel longer between fill-ups by shutting down the generator when the oil becomes insufficient.
The generator offers standard handles for portability, and the 8-foot cord may connect to electrical devices up to 23 feet away. It also includes one 120V 30A twist-lock outlet and two 120V home outlets, giving you a wide range of options. An easy-to-read voltmeter that checks your power is another notable feature.
With quite a fuel capacity of 4 gallons and a total run time of 8 hours, this generator is excellent for small to medium-sized tasks. Its security features include a recoil starter and full enclosure, an add-on feature of these sump pump generators.
DuroStar is also the market leader in clean, quiet, and dependable electricity, providing you peace of mind.
Pros
Low oil shutoff and engine halt for safety
Four outlets to provide maximum compatibility
4-gallon gas tank
The engine can run for up to eight hours
Real-time monitoring of voltage
Cons
Short-term inability to sustain surges of up to 13,000 watts
BILT HARD 4000 Watt Sump Pump Generators
The BILT HARD 4000 Watt Sump Pump Generators are one of the lightest inverter generators on the market. Running at 68 decibels, you may use it indoors without worrying about bothering others with the noise and odors emitted by typical generator engines.
The power density technology employed in this generator allows it to produce 4000 watts of continuous electricity at 25% load. It also has a 120V rated output voltage, enabling stable and reliable power capacity for residential and business applications.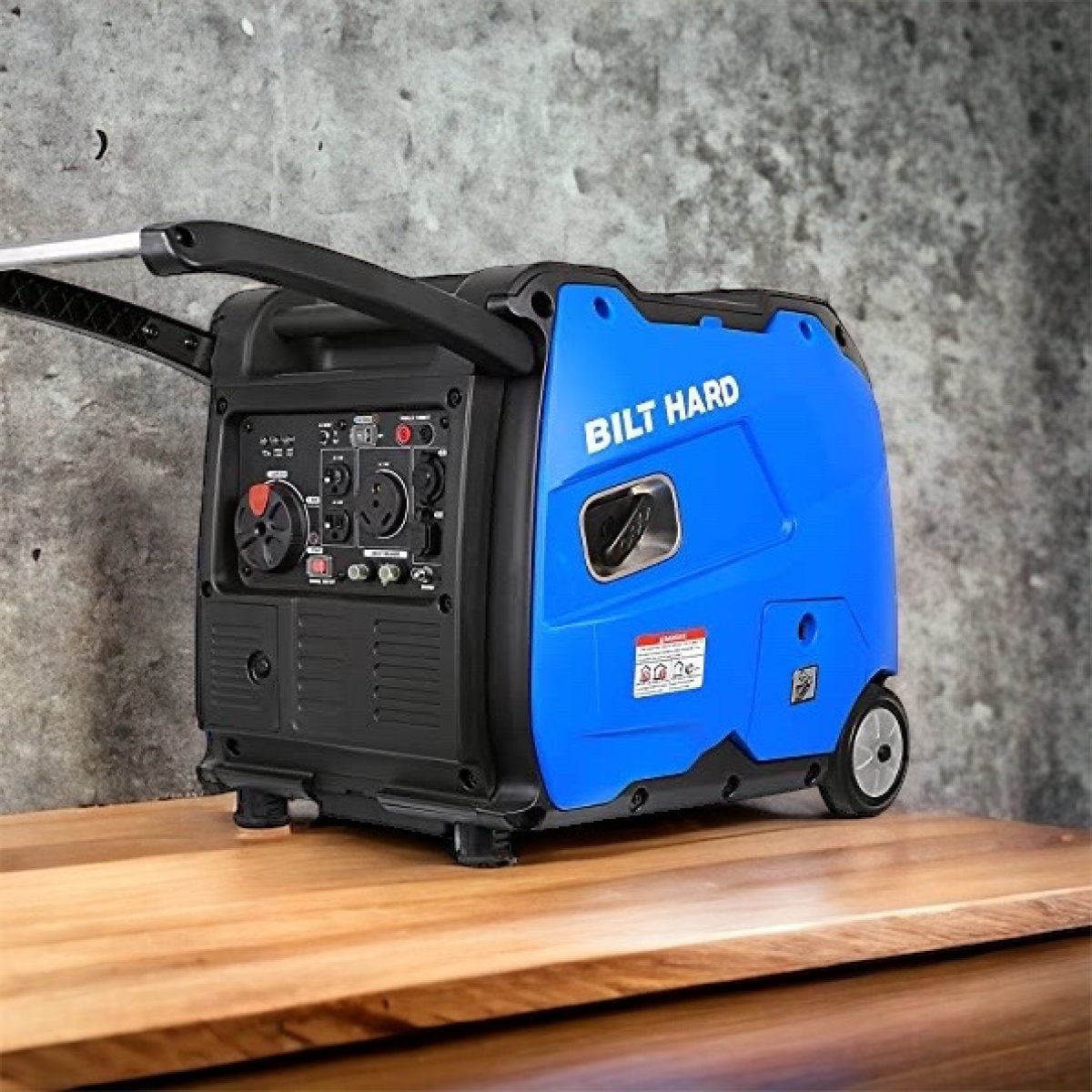 The unit includes a low oil shutdown ignition mechanism that helps prevent engine damage caused by low oil levels and a battery indicator light that alerts the user when the engine battery power is low.
This inverter generator is suitable indoors and outdoors with pure sine-wave functionality and an overload control system to protect the equipment from damage. It has a multi-function control panel with a voltage meter, a starter button, and a circuit breaker. It also has a 2.2-gallon gasoline tank that allows uninterrupted running for up to 14 hours.
The BILT Hard Inverter generator is long-lasting and will provide you with years of trouble-free operation within 90 days of purchase.
Pros
With a decibel level of 68, it is relatively quiet, making it suitable for indoor and outdoor use.
The 2.2-gallon gasoline tank provides ample running time.
You can save time by using many appliances at the same time.
The built-in handle makes it portable and easy to store.
The design and construction are of the highest quality, ensuring years of trustworthy service.
Cons
Since it does not include engine oil, users must fill it out themselves
Factors To Consider Before Buying The Sump Pump Generators
Here are some crucial factors to consider before purchasing the sump pump generators:
Sump pump generators with a display showing all the available information and help you determine if the generators are functioning properly.
Choosing sump pump generators with a recoil start option can take time and effort. Choose a generator with an electric start to make it easier to start the generator quickly when needed.
Generators are viable options. Suitable sump pump generators will survive longer than the sump pump itself. A propane generator can run for up to 14 hours, whereas a gasoline generator can run for up to 7.5 hours.
Sump pump generators with a noise level of less than 60dB are suitable for connecting to your pump. Even if you take precautions such as placing them away from basement windows, loud generators might lead to disruption in the home.
It will be more practical to power the sump pump using various power sources. When one fuel runs out, dual fuel capability generators for sump pumps are excellent.
How To Test Sump Pump Generators?
The sump pump generators can test in a variety of ways, including:
Plugging: Connect the generator directly to a sump pump to determine whether it turns on and works. Examine the generator's ampere output as well.
Run time: Ensure your generator can run for at least 4 hours before shutting down.
Size: Consider your generator's total size and weight to ensure it is easy to transport across your home.
Price: Best sump pump generators should be economical but not cheap, both in terms of the purchase price and continuous maintenance.
How To Maintain Sump Pump Generators?
Maintaining sump pump generators is simple and easy:
1. Keep your generator clean and dry at all times.
2. Before you start operating your generator, inspect its condition. Check the oil filter and tank to confirm that it is working properly.
3. Keep your sump pump generators at least 5 m to 15 m from windows and doors. It keeps the gas released by the generator out of your home. It also aids in noise reduction.
4. Connect an extension cord and a generator to the sump pump.
Alternatives To Sump Pump Generators
A battery backup sump pump can use as an alternative to a generator. The most significant feature of a battery backup is that it is perfect when the water is pouring in quickly and strong for a short period since it has a limited operating time.
A water-powered backup is another popular option. These top-quality generators use the power of the water in your sump basin and can run for hours without power! These are ideal for situations involving extensive floods. However, these finest generators perform best when water levels are stable and require a constant water supply.
FAQs:
Do I need a large or small generator to run a sump pump?

Generators with a maximum power output of 3000 to 5000 watts are ideal for powering a sump pump. They can supply adequate power for modest jobs without becoming overloaded.
Avoid large generators with more than 5000 watts unless they use with many appliances. Smaller than 3000 watts may need to be more powerful if your sump pump is your only emergency backup power source.

What type of generator can run a sump pump?

Sump pumps are high-energy devices that consume much power. Most sump pumps require 3000 watts and up to 5000 watts. This means you'll need a big generator to power one. You'll need a big generator to power one.

To run a sump pump, what is the required wattage?

This will depend on how many watts your sump pump requires. If you have an older or less expensive model, it will need between 800 and 1,500 watts.

However, current models use less power and often require 1,200-watt units. For example, a more extensive system with 3′ of pipe running into it may require 2,000 watts of energy, whereas a smaller system with 4′ of pipe might only need 600 watts.

How much do sump pump generators cost?

The best generators can range in price from $500 to $6000, depending on the type of sump pump you use.
Conclusion: Sump Pump Generators
Sump pumps are one of the best ways to avoid basement flooding and dry your home. Unfortunately, they can only succeed if they are kept clean regularly and if they are connected to the right type of generator.
However, you don't have to be left out in the cold if you need a generator for your sump pump. Replacement parts, such as a new impeller, might be necessary after prolonged use.
Fortunately, you have several excellent options for obtaining reliable sump pump generators. Once you've decided, you can rest assured that your basement will stay dry even during a power outage.
Spend time examining each separately to discover the best fit for your needs. Hopefully, you will make the right decision and buy with assurance knowing you got what you wanted to buy.