5 Best Sump Pump Alarms In 2023: [Tested & Reviewed]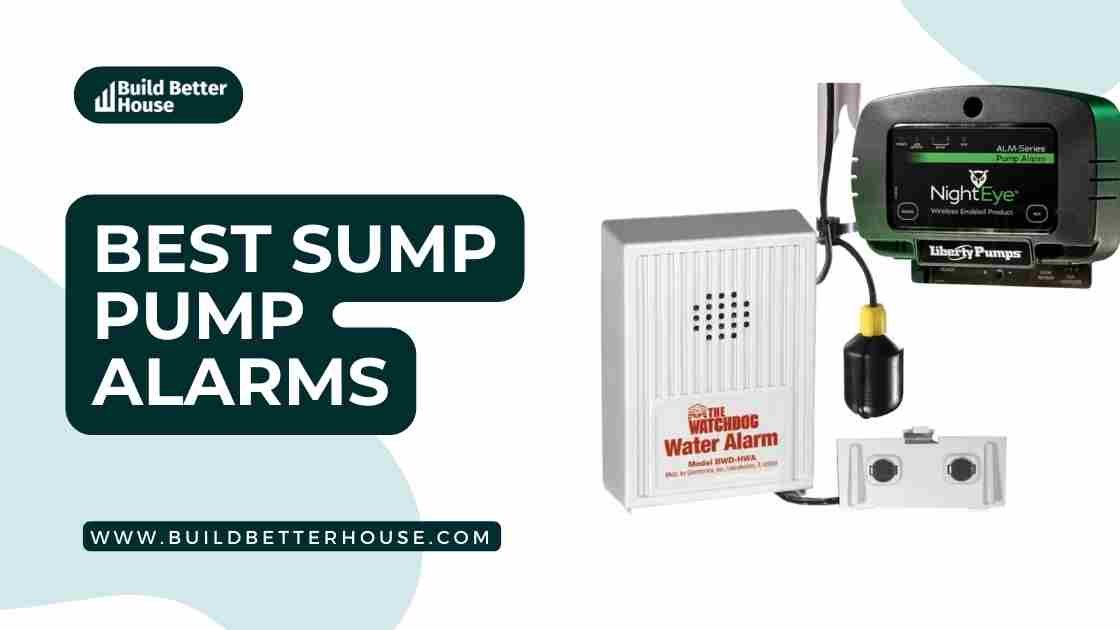 Are you looking for the best sump pump alarms available on the market? Don't worry; we've got you covered.
A sump pump water alarm is an essential precautionary measure to prevent flooding before it occurs. A finished basement that suffered flood damage may be as costly as one built from scratch.
A sump pump water alarm is a critical element of the pump system. Although water alarms are an accessory, they are still necessary. The sump alarm can prevent water damage if your pump system fails by notifying you if water rises above a certain level.
The following are the best sump pump alarms currently on the market. It will help if you create a checklist of your needs after going through the list of sump pump alarms.
| | | |
| --- | --- | --- |
| Top Pick | Zoeller A-Pak Indoor Alarm System | Buy Here |
| Runner Up | HS-700 HomeSitter FreezeAlarm System | Buy Here |
| Best Combo Alarm | Superior Pump 92060 | Buy Here |
| Most Basic | Beacon PROACT 200 | Buy Here |
| Best for Budget | MySpool Water Detector | Buy Here |
What Is A Sump Pump Alarm?
Before learning about the best sump pump alarms available on the market, you must know why you need a sump pump alarm.
A sump pump alarm alerts you when the water level in your basement or crawl space pump system is too high, making it hard for the pump to remove water effectively. The alarm is usually on top of the sump pump, and it sounds like a smoke alarm when it becomes wet.
If the sump pump alarm operates appropriately, it may alert you that the water level is too high, and you should seek alternative methods to avoid basement or crawl space flooding. It must be audible throughout the house.
Types Of Sump Pump Alarms
You must include water alarms in your sump pump system. Whether you have a built-in alarm in your sump pit or a traditional beeping water alarm unit, you'll be warned of imminent flooding dangers before they happen so you can respond before the issues begin. These are the three most common sump pump alarms.
Traditional Water Alarms
A sump pit alarm is a traditional water alarm. It beeps loudly from the sump pit in the basement when water is present. These alarms are loud enough (sometimes over 100 decibels) to hear on the house's second floor.
When you are home, these alarms are helpful, but when you are away, they are useless. These are the least expensive water alarms.
WiFi Alarms
Alarms wired to your sump pit can send you text or email notifications even if your sump pump doesn't. They are a bit more costly than purchasing a traditional sump pump alarm, but they will alert you if anything goes wrong in your sump pit.
Specific newer water alarms have mobile apps that you may log into and monitor alarm performance over time.
These smart alarms make it simple to monitor your basement and notify you if anything goes wrong, no matter where you are. You can connect them quickly to a sump pump, sewage pump, or any other system.
Alarm Dialers
Besides a sump pump alarm system, individuals who own cabins or rental properties commonly install low-temperature alarm dialers inside the house to let them know if indoor temperatures drop below 42 degrees Fahrenheit.
Temperature alarm dialers do not connect to the sump pump or pit but alert you when pipes might freeze and burst, flooding the house when nobody is there.
These alarms cannot be connected to a wireless internet connection but to a landline phone line to dial. It can notify you if issues arise, even when you are away from home. You must place the alarm in the area it is being monitored.
Best Sump Pump Alarms In 2023
The best sump pump alarms can help you prevent water damage if your pump fails. We've collected a list of the best sump pump alarms to help you out.
Zoeller A-Pak Indoor Alarm System
The Zoeller A-Pak Indoor Alarm System is among the best sump pump alarms. This sump pump alarm can be plugged into the wall or hardwired to your pump and is loud enough for indoor or outdoor use. You will know immediately when your pump is not working or water is rising.
We recommend using Zoeller pumps with this alarm so you are notified immediately if the pump does not work. Zoeller pumps rarely fail, but they may have motor problems and other issues preventing them from functioning.
Alarm Features
82-decibel alarm
Designed to work with Zoeller pumps
Perfect for large houses
Pros
Best sump pump alarms on the market
Loud enough to be heard in houses and deep basements
Connections for pump and float switch
Cons
No WIFI functionality for high water level
You can buy Zoeller's best sump pump alarms on Amazon.
HS-700 HomeSitter FreezeAlarm Alarm System
With the HS-700 FreezeAlarm System from HomeSitter, you can monitor for extreme temperatures, power outages, and high water levels in addition to water levels in your pump pit. This water alarm has unique features like the other best sump pump alarms and is ideal for families away from the house or rental properties with leaky pipes.
Alarm Features
Monitors temperature, water level, and power
Loud alarm plus phone notification system
Perfect for travelers
Pros
Inform 3 people in case of emergencies with phone notifications
Get notified of power and temperature issues – not just water level
Effortless to install and configure
Cons
Phone notification requires a phone line
Can't monitor hot and cold at the exact time
You can buy Homesitter's best sump pump alarms on Amazon.
Superior Pump 92060 Sump Alarm System
If you have a large house and wish to hear the alarm in your basement go off, the Superior Pump 92060 is the gadget for you. This pump system comes with an 87 dB alarm that also chirps.
This sump pump is noncorrosive and can lift water 25 feet in the air and pump solids up to 2 inches in size. As a result, you can remain stress-free if you are worried about corrosion.
The discharge on this sump pump is 2 inches in diameter for heavy-duty pumping. In addition, this sump pump includes a thermoplastic build. You can rely on it for years to come if you purchase one.
Alarm Features
Super loud 87 dB alarm that you can hear across the house
Straightforward to install in about 30 minutes
It reaches with a sump pump and backup battery (with alarm)
Pros
Sump pump with built-in alarm & backup
Can't miss high water alarm sound
Works on sewer pumps and sump with a float switch
Cons
Not invented for outdoor use
You can buy Superior Pump's best sump pump alarms on Amazon.
The Beacon PROACT 200 is a good choice for people on a budget who still want a sophisticated alarm system. The alarm checks the pump for failure in addition to monitoring for water and power outages, which is common among the best sump pump alarms.
There are no subscription fees since the system connects directly to your Wi-Fi. When something goes awry, you will receive an alert.
Alarm Features
Monitors for difficulties and tests the system
Phone warnings and alerts
Reviews for power failure and flooding
Pros
Multi-purpose alarm system
Proactively tests the pump instead of waiting for a loss
Checks for mechanical and electrical failure along with high water levels
Cons
Keep an eye out for a power outage
Few false notifications if not calibrated correctly
The MySpool system is one of the most simple water alarm units available, but it performs as well as pumps twice its size in detecting leaks and notifying mobile users.
The sensor pad and power cable are up to 400 feet from the WIFI system. The water detector uses a detection pad positioned at the top of the pit. Water will touch the place when the basin is full and send an alert.
Alarm Features
Connects to home WIFI to send email, text, and push alerts
Reasonably priced with no subscription cost
Works anywhere in the house
Pros
Sends text alerts and emails
Review pump status online using the MySpool website
2′ Sensor wire permits for installation almost anywhere
Cons
Infrequent false alarms, if not calibrated correctly
You can buy MySpool's best sump pump alarms on Amazon.
Sump Pump Alarm Buying Guide
The best sump pump alarms are not cheap, but they are pretty affordable. Usually, sump pump alarms last for the lifetime of the system. The function of the sump pump alarm is relatively minimal.
However, before you purchase a sump pump alarm to protect your cellar, review our buying guide. It will help you choose the best sump pump alarms for your house.
Modern alarms can use a wireless network to send you notifications over the internet if a flood occurs. Make sure that you check whether WIFI capability is included with your model.
This feature is ideal for people who are away from home frequently or for landlords who need to receive notifications instantly when a property is flooding. When an alarm detects a hazard or flooding, it can connect to the internet and notify your phone.
The decibel level is crucial when selecting the best sump pump alarms. It will help if you consider the sound level of this sump pump alarm as the most significant factor when choosing it.
The alarm should notify you in case of an emergency. If you don't hear it adequately, installing an alarm is pointless.
Before purchasing an alarm, you must look at the decibel range. It must be loud enough to hear. Sump pumps require alarms with a decibel range of 85 or higher.
Sump pump alarms usually function on electricity, but there are also battery-operated alarms. Your house should have consistent electricity if you want to rely on direct electricity. If there's no electricity, the sump pump won't work. You can also choose battery-powered alarms, however.
Even if you purchase an electricity-operated sump pump, you might want to buy a battery backup model to ensure you have backup power in case of an electricity outage.
It is typically tricky for beginners to set up sump pump alarms. However, even most users do not generally have a lot of difficulties installing them.
Furthermore, you may not always be able to install the most sophisticated alarms without a problem. Therefore, you should select an easy sump pump alarm that you can use without difficulty.
The installation process is primarily described in the instruction manual in detail. You must also receive the optimum performance of the alarm you have purchased.
Alternatively, you may employ a professional to accomplish this task. However, it will cost you a large amount of money.
Conclusion
An alarm system is an essential investment for a water pump, as it may prevent a flood in the basement before it happens and saves you thousands of dollars in water damage.
A wired alarm is essential, but if you are away frequently or own a rental property, an alarm that connects to WIFI and alerts you on your phone is a good choice. Hopefully, our guide helps you to choose the best sump pump alarms for your home.
Related Articles
5 best sump pumps on the market
How to deodorize sump pumps: 5 best ways