Basement Bar Ideas: Transform Your Space with Modern Designs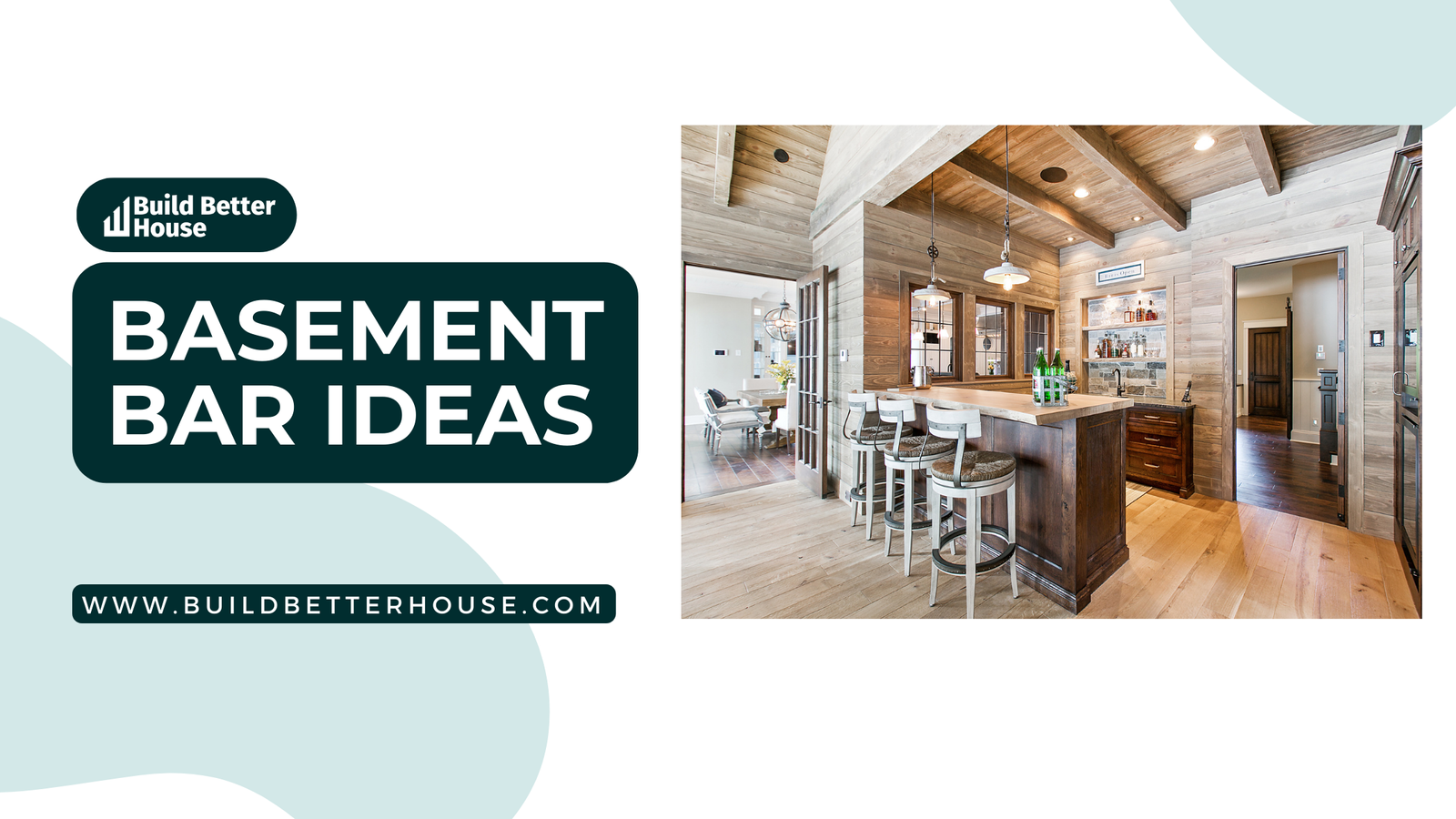 Transforming your basement into a stylish and functional bar area is an excellent way to create an inviting space for entertaining friends and family. With a variety of design ideas and styles, you can customize your basement bar to suit your personal taste and the overall aesthetic of your home. Whether you decide to go for a modern, sleek look or opt for a more rustic and cozy vibe, your basement bar has the potential to become your favorite spot for casual get-togethers or relaxing evenings at home.
When planning your basement bar, it's essential to consider the essential elements such as cabinetry, countertops, lighting, and bar seating. Material options may range from classic wood to contemporary marble, depending on the look you're aiming to achieve. Consider building considerations, such as the plumbing, electrical, and ventilation requirements, to ensure your basement bar is both functional and safe. And don't forget to think about your budget, as it will play a significant role in the decisions you make for your space. With a bit of planning and creativity, you can design a comfortable and stylish basement bar that fits your needs and wants.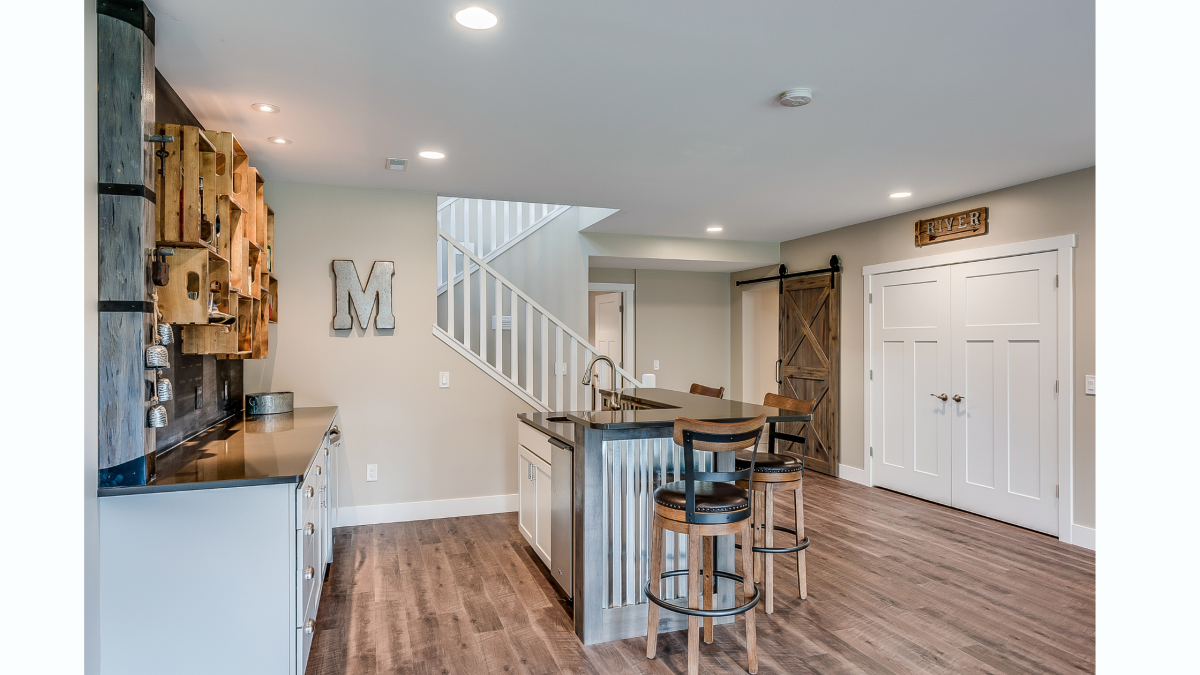 Key Takeaways
Basement Bar Styles
Rustic Basement Bar
When it comes to creating a rustic basement bar, think of natural materials and a cozy atmosphere. Use reclaimed wood, brick, or stone for your bar counter and walls to infuse warmth and texture into the space. To enhance the rustic theme, consider adding industrial lighting, such as Edison bulbs or pendant lights with metal shades. For seating, opt for wooden or metal bar stools that complement the bar's design. Remember to incorporate personal touches, like vintage signs or farmhouse-style decor, to make the space truly unique and inviting.
Modern Basement Bar
A modern basement bar calls for clean lines, minimalistic decor, and a sleek color palette. Embrace an all-white theme or use a combination of neutral tones, such as gray, black, and white, to create a sophisticated atmosphere. Opt for materials like marble countertops, glossy cabinets, and glass shelving for a contemporary feel. Don't shy away from using innovative lighting solutions, such as LED strips or recessed lighting, to accentuate the modern vibe. Complete the look with comfortable, yet stylish bar stools, preferably with a complementary color scheme.
Small Basement Bar
If you're working with limited space, fear not; a small basement bar can still be stylish and functional. Start by selecting a compact bar counter or a portable cart to store your favorite spirits and barware. Utilize wall-mounted shelves or floating cabinets to save floor space while providing storage for bottles and glasses. Consider adding a mirror behind the bar to create an illusion of a larger space and enhance the room's lighting. When it comes to seating, opt for foldable or stackable stools that can be easily stored when not in use. And, of course, don't forget to personalize your small basement bar with your choice of decor and lighting.
Essential Elements
In designing your basement bar, there are some essential elements to consider for a functional and visually appealing space. In this section, we will discuss the most important components of a basement bar: Countertops and Cabinets, Stools and Seating, Lighting, and Storage and Organization.
Countertops and Cabinets
Selecting the right countertop and cabinets for your basement bar is crucial. They not only set the tone for the overall design but also provide functionality and durability. Consider materials that are easy to clean and maintain, such as granite, quartz, or solid surface countertops. Opt for cabinets that match your chosen theme and provide adequate storage space for your spirits, glassware, and other bar essentials.
Stools and Seating
Comfortable stools and seating options are key to making your basement bar an inviting space for you and your guests. Bar stools come in various styles, heights, and materials, so it's important to choose ones that fit the height of your countertop and complement your overall design. In addition to bar stools, consider adding a lounge area with comfortable chairs or sofas for a more relaxing and social atmosphere.
Lighting
Good lighting can make all the difference in enhancing the ambiance of your basement bar. Pendant lights are a popular choice for providing focused illumination over the bar area, while giving a stylish and modern touch to the space. Additionally, consider incorporating ambient lighting options, such as recessed or wall sconces, to create a cozy and welcoming atmosphere.
Storage and Organization
An organized and well-thought-out storage system is essential for keeping your basement bar clutter-free and easy to use. Utilize cabinets, shelves, and drawers to store your barware, tools, and drinks. You may also want to include a wine or liquor rack to showcase your collection and make it easily accessible. Remember to keep frequently used items within reach for efficiency and ease of use while preparing and serving drinks.
Following these guidelines will help you create a basement bar that is not only visually appealing but also highly functional, making it a perfect spot for unwinding and entertaining.
Material Options
When considering building a basement bar, it's important to explore different material options to find the perfect fit for your space. In this section, we'll discuss Wood Bars and Stone and Metal Bars.
Wood Bars
Wood is a popular choice for basement bars because it's versatile and readily available in a variety of styles. You can choose from different types of wood, such as oak, maple, cherry, and more, depending on your preference and budget.
Here are some benefits of using wood for your bar:
Aesthetic appeal: Wood has a natural warmth and a classic look that can fit well with various interior designs.
Customizable: Wood can be stained or painted in different colors, allowing for more design options.
Easy to work with: Wood is a relatively easy material for builders to work with, making it a great choice for DIY projects.
However, keep in mind that wood may require additional maintenance to protect it from moisture and potential damage. Make sure to properly seal the wood and apply a finish to keep it looking fresh and durable.
Stone and Metal Bars
For a more modern and industrial look, you can consider using stone or metal bar materials like granite, quartz, stainless steel, or copper. These materials can add a unique and sleek touch to your basement bar.
Advantages of using stone and metal for your bar include:
Durability: Both stone and metal are known for their toughness, making them ideal for a bar area that may endure wear and tear.
Low maintenance: Unlike wood, stone and metal bars often require less maintenance as they are more resistant to moisture and damage.
Variety of styles: Stone countertops offer various patterns and colors, and metals can be finished in a range of ways, allowing for diverse design possibilities.
On the other hand, stone and metal bars may be more expensive and challenging to install than wood bars. Be sure to weigh the pros and cons of each material, and consult professionals if needed, before making your decision.
When planning your basement bar, explore these different material options—wood, stone, and metal— to create the ideal space for entertaining and relaxation that meets your style and budget.
Building Considerations
When planning your basement bar, there are several building considerations to keep in mind. In this section, we'll discuss the differences between wet bars and dry bars, the importance of plumbing and installation, and the basics of bar construction.
Wet Bar vs. Dry Bar
It's important to understand the differences between wet bars and dry bars, as they each have unique features and requirements.
Wet Bars typically include running water, a sink, and may require additional plumbing. They are great for rinsing glasses, preparing cocktails, and cleaning up spills. They often include a backsplash and built-in storage for glasses and bottles.
Dry Bars do not have a sink or water source, which simplifies the construction process. They can still provide ample storage and counter space for your drinks and accessories. If your basement has limited access to plumbing, a dry bar is a more feasible option for you.
Plumbing and Installation
For a wet bar, adequate plumbing is crucial. Consider the following points:
If you opt for a dry bar, plumbing is not a concern. However, you may still need to address the following:
Electrical requirements for lighting, outlets, and any appliances you plan to include, such as a mini-fridge or wine cooler.
Adequate ventilation, especially if your basement is prone to dampness or humidity.
Bar Construction
The construction of your basement bar will depend on your chosen design, materials, and your DIY or professional help preferences. Here are a few aspects to consider:
Select materials that match the overall style of your basement. Popular options include wood, stone, and metal.
Ensure the bar is structurally sound and built to withstand the weight of bottles, glassware, and appliances.
Think about the layout and functionality, including ample counter space, storage, and seating options.
Consider incorporating unique features such as lighting, built-in shelving, and custom cabinetry to personalize your bar.
By carefully considering these aspects, you'll be well on your way to creating a functional and stylish basement bar that suits your needs.
Design Ideas
Game Room
A game room is a great addition to any basement bar. To create the perfect atmosphere, consider installing a pool table, darts, or an arcade system. Use comfortable seating andfunctional tables for drinks and snacks. Incorporate neon signs and memorabilia from your favorite sports or movies for a personal touch. Make sure your game room has ample lighting to ensure a fun and inviting atmosphere.
Man Cave
An ultimate man cave is a must-have for any basement bar enthusiast. Start by selecting a theme that reflects your interests or hobbies, such as sports, cars, or music. You can incorporate memorabilia, posters, and collectibles to create a unique atmosphere. Comfortable seating, like recliners or a couch, is essential to relax and enjoy your favorite drink. Don't forget to add a large TV for watching sports events or movies with friends.
Kitchenette
A basement kitchenette can elevate your bar experience to the next level. Consider installing kitchen cabinets and a countertop to prepare and serve food easily. A small refrigerator, sink, and microwave will add functionality to your basement gathering area. Opt for a sleek and modern design, or keep it cozy with rustic elements. To maximize efficiency and organization, include storage for barware and utensils.
Built-Ins
Built-in features can enhance the layout and functionality of your basement bar area, turning it into a multi-purpose space. Adding built-in shelves can provide space for displaying collectibles, storing bottles, glassware, and other items. A built-in entertainment center is another great addition, offering a spot to house your TV and audio equipment. To maintain a cohesive design, ensure that the materials and finishes of your built-ins match your overall basement design aesthetic.
Budget and DIY
Affordable Materials
When creating a basement bar on a budget, it's essential to choose affordable materials without sacrificing quality. Here are some budget-friendly options to consider for your project:
Plywood or MDF: These materials are cheaper than hardwood but can still provide a sturdy and durable bar structure. You can paint or stain them to match your desired aesthetic.
Laminate: Laminate countertops are a cost-effective alternative to more expensive options like granite or quartz. They come in various colors and patterns and can cover an inexpensive base made from plywood or MDF.
Pallet wood: Reclaimed pallet wood is an eco-friendly and budget-friendly option for building bar structures, shelves, or accent walls. Be sure to sand and finish the wood to prevent splinters and enhance its appearance.
DIY Basement Bar Ideas
Creating a DIY basement bar is an excellent opportunity to customize your space while staying within your budget. Here are a few DIY bar ideas to consider:
Repurpose a piece of furniture: Transform an old credenza, bookcase, or dresser into a basement bar by adding storage for bottles and glasses, and installing a countertop.
Floating shelves: Install floating shelves on a wall to hold your drinkware and liquor bottles. This is an affordable and minimalistic way to create a functional bar area.
Build a simple bar counter: Create a basic bar counter using plywood or MDF as the base, and cover it with laminate or another affordable countertop material.
Bar cart: Style an inexpensive bar cart with your drink of choice and some simple glassware. This is an easy and mobile solution for a small space.
By carefully selecting affordable materials and using your own DIY skills, you can create a functional and stylish basement bar on a budget. Remember, the key is to personalize your space while being mindful of costs, allowing you to enjoy your basement bar without breaking the bank.
Entertainment and Accessories
Games and Activities
Transform your basement bar into an entertaining space by incorporating a variety of games and activities. Here are some suggestions to enhance the fun factor:
Pool Table: A classic choice for any bar, a pool table offers hours of entertainment and competitive fun for you and your guests.
Arcade Games: Nostalgic and enjoyable, arcade games like pinball machines or classic video game consoles can make your basement bar stand out.
Air Hockey: Fast-paced and exciting, an air hockey table adds another level of friendly competition to your space.
Foosball: Compact and versatile, a foosball table is an excellent addition to any basement bar.
Consider dedicating a specific area for these games to create a distinct entertainment zone within your basement bar.
Bar Accessories
A well-equipped basement bar will impress your guests and make your space more functional. Here are some essential bar accessories to consider including:
Glassware: Stock up on a variety of glasses, such as wine, beer, and cocktail glasses, to suit different types of drinks.
Cocktail Shaker: A cocktail shaker is a must-have for preparing a variety of mixed drinks with ease.
Bar Tools: Equip your space with essentials such as a bottle opener, corkscrew, and ice bucket for easy drink preparation.
Memorabilia: Personalize your bar by showcasing memorabilia like sports gear or movie posters, reflecting your interests and personal style.
Remember, your basement bar should be a reflection of you and your interests, so don't be afraid to get creative and customize your space with the games and accessories that best suit your personality.
Finishing Touches
Lighting Design
Choosing the right lighting design for your basement bar can greatly enhance its ambiance. Consider using a combination of different lighting types, such as ambient, task, and accent lighting. Ambient lighting provides overall illumination, while task lighting aids in specific activities like reading menus or mixing cocktails. Accent lighting highlights specific design elements, such as artwork or shelves displaying your glassware. Don't forget to install dimmer switches to fine-tune the atmosphere for different occasions.
Color and Décor
Selecting a color scheme and décor for your basement bar can transform the space and make it feel like an extension of your home. Stick to a cohesive theme, such as rustic, modern, or industrial. Choose paint colors that complement your chosen theme. For instance, rustic bars often use warm earth tones, while modern bars may feature bold, contrasting colors. Additionally, add decorative elements like artwork, mirrors, or unique furniture pieces that match your chosen theme to complete the look.
Glassware and Tools
Investing in quality glassware and tools will not only elevate your basement bar's appearance but also its functionality. Start by stocking up on essential glassware, such as:
Wine glasses (red, white, and stemless)
Beer glasses (pint glasses, mugs, and speciality glasses for craft beers)
Cocktail glasses (martini, margarita, and old-fashioned glasses)
Don't forget to also purchase essential bar tools, such as:
Cocktail shaker
Jigger
Stirrer
Strainer
Bottle opener
Corkscrew
Muddler
Bar spoon
Coasters
Finally, protect your bar and add a touch of personal style by using coasters. Choose from a wide variety of materials, designs, and colors to match your basement bar's theme. This small yet significant finishing touch will not only serve a practical purpose but also add a layer of sophistication to your space.
Frequently Asked Questions
What essential equipment is needed for a basement bar?
To create a functional basement bar, you'll need a few essential pieces of equipment. This includes a bar counter, sink, refrigerator, and storage for glassware and alcohol. Depending on your needs and preferences, you may also want to include a wine rack, beer taps, a cocktail shaker, an ice maker, and appropriate glassware for different types of drinks.
What are some creative themes for a basement bar?
You can personalize your basement bar by choosing a theme that reflects your taste and interests. Some popular themes include sports, movies, travel, or a specific era like the 1920s speakeasy or a '50s diner. Take inspiration from your favorite activities, films, or destinations, and use them to create a unique atmosphere with decorations, artwork, and furniture in your basement bar.
How can I maximize space in a small basement bar?
If you have a smaller basement, maximize your space by using efficient storage solutions and compact furniture. Consider open shelving or a compact bar cabinet for storing alcohol and glassware. Choose a slim bar counter or a wall-mounted fold-down counter to save floor space. Multifunctional furniture, such as bar stools with built-in storage, can also help you make the most of your limited space.
What lighting options work best for basement bars?
The right lighting can set the mood for your basement bar and make it more inviting. Use a combination of ambient, task, and accent lighting to create a cozy atmosphere. For ambient lighting, consider recessed lights or LED strips. Task lighting, such as pendant lights or under-cabinet lighting, can help illuminate specific areas like the bar counter. Accent lighting, like LED strip lights or wall sconces, can highlight specific features or add a touch of style.
How can I create a budget-friendly basement bar?
Creating a budget-friendly basement bar is possible with some careful planning and resourcefulness. To save on costs, consider repurposing existing furniture or shopping at thrift stores for bar essentials. Instead of hiring professionals, tackle any necessary construction tasks yourself. Look for DIY projects that can help you save on materials and labor. Additionally, plan your layout and purchases carefully to avoid costly mistakes or overspending.
What materials should I consider when constructing my basement bar?
The materials you choose for your basement bar will depend on your design preferences, budget, and the desired level of durability. Some popular materials for bar construction include wood, metal, and stone. If you prefer a traditional look, wood is an excellent choice, while metal offers a sleek, modern aesthetic. Stone, such as granite, marble, or quartz, can provide a luxurious appearance and is also durable. Consider the pros and cons of different materials to make an informed decision that suits your needs and style.